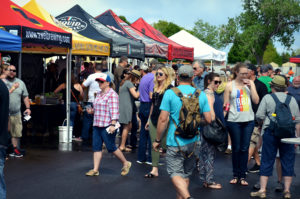 The Front Range Rally is a craft beer and food truck festival in Loveland, Colorado. Festival goers enjoy samples of over 100 craft beers and amazing food ranging from BBQ to crepes as well as live music in the great Colorado outdoors. All proceeds from this event are donated to the Food Bank for Larimer County to support hunger relief initiatives in our community.
The 2017 Front Range Rally will be held May 20th at the Loveland Food Share, 2600 North Lincoln, Loveland, CO, from 2:30 – 7 PM. VIP ticket holders are welcome to come at 1:30 PM.
This event will feature as many as 55 breweries and distillers and 10 food trucks. Live music will be played all afternoon and evening from the main stage.
Learn more about this event and purchase your tickets at www.frontrangerally.org.