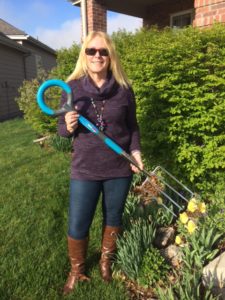 Sharon works in the Social Sustainability Department for the City of Fort Collins. She has been involved in the Plant it Forward program from the very beginning and loves working on collaborative events and projects. She mentions, "I really like that people can participate and help a really good nonprofit without a lot of extra work."
Plant it Forward is a partnership between the Gardens on Spring Creek and the Food Bank for Larimer County. All gardeners are invited to plant an extra row to fight hunger in our community. Share your bounty with children, families, and seniors in need of food assistance and help end hunger.
Through her job, Sharon has the ability to connect with many people to bring awareness to Plant it Forward. She is a Plant It Forward Champion, meaning she helps ferry the produce donations from those around her to the Plant it Forward drop-off locations. In particular, Sharon encourages her coworkers to participate. "I work for the City of Fort Collins and can access a lot of people. I'm amazed at how many people at the City are still not aware of Plant it Forward." She works hard to get more people involved and helps ensure the donations make it to the Food Bank.
She wishes people knew how easy it is to participate.  "You don't need a huge garden to help hungry people. If everyone in the city, all 150,000+ of us, contributed one pound of food each, we would make a dent in getting food to those who are food insecure." Sharon continues by saying, "I enjoy gardening, but have to admit I don't have a very good garden…yet." Even still, she's able to make a huge impact on this program.
Sharon concludes, "Over 42,000 people in Larimer County are food insecure, including 11,570 children. It is easy to add a few extra plants to your garden and share the food you grow through Plant it Forward with the Food Bank so they can get the food to people who really need it."
According to the USDA , "people who eat more vegetables and fruits as part of an overall healthy diet are likely to have a reduced risk of some chronic diseases." Your donation will help feed neighbors in need leading to a healthier and more vibrant community for all. Plant it Forward is made successful by backyard gardeners of all levels and of all donation sizes coming together to fight hunger in our community. Sharon Plants it Forward, will you? Click here to learn more about the program and how you, too, can participate.
http://www.foodbanklarimer.org/wp-content/uploads/2015/11/food-bank-larimer-logo-fa.gif
0
0
Kate Shelton
http://www.foodbanklarimer.org/wp-content/uploads/2015/11/food-bank-larimer-logo-fa.gif
Kate Shelton
2017-04-28 18:36:41
2017-05-26 14:22:59
Why Sharon Plants it Forward