Volunteering
Volunteers are the heart of our organization. In 2016, over 2,600 volunteers generously contributed 38,000 hours of their time – equivalent to 19 full-time staff! These volunteers helped us collect, sort, repack and distribute 9.2 million pounds of food!
Most volunteer positions are a regular, weekly 2-3 hour shift that falls on a weekday, Monday-Friday, between 9 am and 6 pm. We also have a few shifts on Saturdays in Loveland. Please note we are unable to accommodate volunteers under the age of ten with the exception of certain special events. Please visit our special event volunteer opportunities below for events that need volunteers of all ages. In order to become an ongoing volunteer, we ask that you attend a Volunteer Orientation at the Food Bank.
To get started, please complete and submit the volunteer questionnaire. Then follow this link to schedule your orientation.
Are you interested in volunteering at the Food Bank, but your schedule makes it difficult to commit? Great news! The Food Bank now offers volunteer shifts for individuals or small groups who just want to give it a try or whose schedule doesn't allow for a weekly shift. These shifts do not require an orientation, so you can get started right away. Shifts are weekdays, 5-7 pm, in Fort Collins Food Share. For more information and to sign-up, visit this page.
To learn more about Group volunteering or Community Service (Court-referred or restorative justice) opportunities, either submit the questionnaire or email our volunteer manager. These shifts also do not require an orientation.
Food Link Assistant
Help the Food Bank for Larimer County provide thousands of pounds of food to over 80 local, non-profit agencies in Larimer County including Crossroads, Catholic Charities, and the House of Neighborly Service.
Duties include: Stocking, sorting & cleaning
Food Share Assistant
Food Share Assistants provide direct service to our guests in Food Share, our client-choice, fresh food pantry. In this area you will be able to see firsthand how your contribution is changing the lives of people in need in Larimer County and work directly with the families who receive this much-needed food.
Opportunities include: Greeting guests, stocking, sorting
Community Kitchen Assistant
Kitchen volunteers help prepare healthy, made-from-scratch meals and snacks for our child and senior programs.
Duties include: Preparing and portioning food for Kids Cafe and other programs. No culinary training is necessary.   
Warehouse Assistant
You can help us distribute over 9 million pounds of food this year by volunteering in the Food Bank for Larimer County's Warehouse.
Opportunities include: Preparing commodity food bags, sorting food drive items, and repacking donated bulk food.
Special Event Volunteer Opportunities
Community Gardening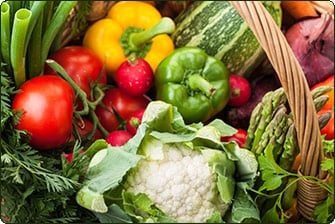 The Community Garden at Redeemer was built in 2013 to serve the Food Bank for Larimer County. Crops grown are apples, tomatoes, peppers, cucumbers & squash. In 2016, 9651 pounds of fresh produce was donated!
They will be closing down for the winter on Saturday 10/28 from 9 am to 12 noon! And they need a hand gleaning the garden and getting it ready for winter. Lunch will be provided. Please sign-up HERE if you can help out.