27 Years – 2.1 Million Meals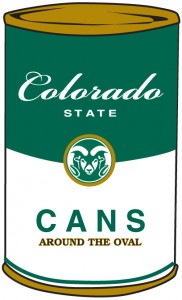 Cans Around the Oval is an example of how one person can truly make a difference. It started with one person thinking of an idea, one person putting it into motion, and a community coming together to turn it into a tradition. In 1986 the Office of Community Services (OCS), which has now grow into the office of Student Leadership, Involvement & Community Engagement (SLiCE), consisted one of graduate student and three work-study undergraduate students.
It was during this time that a graduate student, Victoria Keller, was hired to oversee the efforts of OSC. One afternoon, a journalism student asked Keller to read over a 2-page assignment she had written proposing a canned food drive, which sparked the fire for Cans Around the Oval. Keller, wanting to pursue the proposal, contacted the Food Bank's then Director, Sandy Bowden who coined the name Cans Around the Oval. Although Sandy was too busy to be involved that first year, Keller and two other students decided to take on the efforts of orchestrating Cans Around the Oval.
The first Collection Day made a huge impact on the individuals organizing the event; each individual canned food item signified a step in the right direction. Their excitement spilled over into physically placing cans around  CSU's Oval. Although the cans could only line ¼ of the Oval, the enthusiasm surrounding their accomplishment was strong and would become a legacy for the next 28 years.
Click here to learn more about this year's Cans Around the Oval.
https://foodbanklarimer.org/wp-content/uploads/2018/06/new-fblc-logo2.png
0
0
foodbank
https://foodbanklarimer.org/wp-content/uploads/2018/06/new-fblc-logo2.png
foodbank
2014-09-30 19:14:22
2014-10-01 21:51:44
Cans Around the Oval - A CSU Tradition