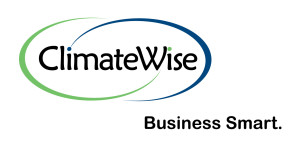 Recently, the Food Bank for Larimer County was featured in the 2014 ClimateWise, Business Smart Partner Profile. Read our profile below to learn more about our ClimateWise initiatives. The Food Bank has participated in the ClimateWise program since 2009. You can learn more about ClimateWise at www.fcgov.com/climatewise.
Energy Savings
Totally Tubular – Daylighting for Energy Savings                 
In the interest of amping up efficiency and continually serving the community, the Food Bank for Larimer County began a daylighting project to provide direct sunlight to its warehouse. The warehouse was undergoing a roof replacement, so the Food Bank seized the opportunity to reduce its environmental impact and enhance the facility atmosphere.
The results of this project have not been quantified yet, but Bruce Wallace, programs director for the Food Bank for Larimer County is happy to report some of the there are advantages like a safer work environment from increased light and employees who seem to be in better moods."
This project is just one of the Food Bank's many accomplishments. The organization also composts any unusable food and strives to provide fresh local produce to those in need.
2.9 Million Pounds of Food Rescued
The food bank's Food Rescue program is part of their effort to provide fresh local food. In 2013, 60,000 pounds a week were diverted – rescued if you will – from the landfill. The bananas turning from yellow to brown, day-old bakery goods, fresh produce blemished with minor bruises and dented canned goods are all perfectly good, safe, nutritious food products. These products would normally be discarded, tossed out and lost, so the Food Bank's Food Rescue project collects, inspects and passes the food to those in need.
ClimateWise. Business Smart.
Since 2009, the Food Bank for Larimer County has partnered with the City of Fort Collins' ClimateWise program to reduce greenhouse gas emissions, operate more efficiently and better serve the community.
"As we divert usable food from the landfill, we are being climate wise. At the same time, we have more food on our shelves to distribute, and without direct costs, the return on investment is high. That's business smart,"declares Bruce.
Bruce also is thankful that "as a ClimateWise partner, the Food Bank is able to make good connections with other local businesses that help us with all of our sustainability programs."
Questions?
You, too, can help divert food from the landfill. Bruce says if you know of a grocery store or local grower who has food that needs to be rescued, contact him.
Connect with Bruce at bwallace@foodbanklarimer.org.
https://foodbanklarimer.org/wp-content/uploads/2018/06/new-fblc-logo2.png
0
0
foodbank
https://foodbanklarimer.org/wp-content/uploads/2018/06/new-fblc-logo2.png
foodbank
2014-10-30 13:49:15
2014-10-30 13:49:15
Climatewise Partner Profile