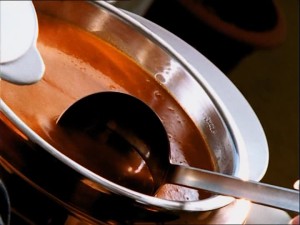 More than 18 years ago, the Food Bank for Larimer County's Empty Bowls fundraiser began in art class at Lopez Elementary School when the school's art teacher inspired his students to create empty bowls to represent those who didn't have enough to eat. Since then, area artists have worked together to support the event and the fight against hunger in the community.
This year, beyond the coveted hand-crafted bowls created specifically for the event and the artwork showcased in the annual silent auction, Empty Bowls is proud to feature the culinary arts. With the expanding list of quality, local dining options in the community, area chefs are using their creativity to invent tasty and distinctive soups for this year's event.
One unique addition to this year's menu comes from the Food Bank's new community kitchen manager, Justin Kruger. Kruger joined the Food Bank in December after moving to Fort Collins a little over a year ago to be closer to family. With 11 years of restaurant experience in Portland and Napa Valley, he brings a new perspective to the Food Bank kitchen. For this year's Empty Bowls, Kruger will be preparing Fabuda Asturiana, a traditional sausage and bean soup from Northern Spain. Kruger perfected the recipe when he was executive chef at a tapas restaurant in Oregon.
"The owners of the restaurant traveled extensively in Spain and asked me to add Fabuda Asturiana to the menu," explained Kruger. After extensive research and experimentation, Kruger developed his signature recipe. "I'm excited to use my skills to help the mission of the Food Bank in any way I can."
Another new addition to the Empty Bowls' menu comes from one of the city's newest restaurants, The Kitchen. "The Kitchen's mission 'Community Through Food,' is founded upon the belief that the ability to share good food and drink connects us as a family, friends and community," said Whitney Flight, Hospitality Manager at The Kitchen Fort Collins. "As a part of the Fort Collins community, we are so pleased to provide food to the Food Bank for Larimer County['s Empty Bowls event] so that others may enjoy the comforts and value of a shared meal."
Also new to this year's menu is the Pateros Creek Cache La Porter Cheese Soup, from Silver Grill Cafe. This fun and unique collaboration soup will be served with cinnamon roll croutons. The newly opened Anheuser-Busch Biergarten will provide Chef Antoine Salazar's smoked red pepper and tomato bisque.
Empty Bowls has grown from offering five signature soups in 1998 to twenty soups in 2015. Confirmed restaurants include: Anheuser-Busch Biergarten, Austin's American Grill, Bisetti's, CooperSmith's Pub & Brewing, Crown Pub, Fish, Fiona's Deli and Catering, Food Bank Community Kitchen, The Moot House, Panino's, PVH Café 1024, The Rio, Silver Grill Cafe, Spoons Soups and Salads, Spring Creek Grill at The Hilton and Whole Foods.
The 18th annual Empty Bowls Fort Collins will be Thursday, February 5 from 5:30 to 8:30 p.m. at the Hilton, 425 W. Prospect. Event guests will enjoy hand-crafted soups and have the opportunity to select a pottery bowl made by students in the Poudre School District or by local artists from the City of Fort Collins' Pottery Studio and the Northern Colorado Pottery Guild. A very limited amount of tickets remain. Tickets are $50 each or $95 for a pair and can be purchased online or by phone (970) 493-4477.
https://foodbanklarimer.org/wp-content/uploads/2018/06/new-fblc-logo2.png
0
0
foodbank
https://foodbanklarimer.org/wp-content/uploads/2018/06/new-fblc-logo2.png
foodbank
2015-01-22 17:08:00
2015-01-30 10:40:18
Culinary Artists Add Additional Flair To Empty Bowls Fundraiser