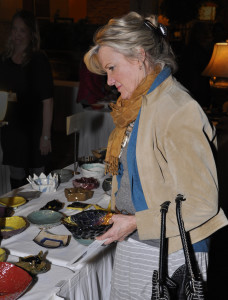 With the help of local artists, restaurants, businesses and individuals, the 18th Annual Empty Bowls event raised nearly $77,000 for hunger-relief programs in Larimer County. Event guests enjoyed 22 different soups from local restaurants, including: Anheuser-Busch Biergarten, Austin's American Grill, , Betty's Community Kitchen (FBLC), Bisetti's Ristorante, Café Bluebird, Canyon Chop House, CooperSmith's Pub and Brewing, The Crown Pub, Enzio's Italian Kitchen, Fiona's Delicatessen & Catering, Fish, The Kitchen, The Moot House, Panino's, PVH Café 1024, Rio Grande Mexican Restaurant, Silver Grill Cafe, Spoons Soups & Salads, Spring Creek Grille at The Hilton, Tastebuds Epicurean Cafe & Catering and Whole Foods. Beantrees Drive-Thru Coffee Cafe provided beverages, Ben & Jerry's Scoop Shop served up dessert and U.S. Food Service donated bread and salad.
We are grateful to the support of our sponsors: Presenting Sponsor – First National Bank; Signature Soup Sponsor – Bohemian Foundation; Tureen Sponsors – Paul Versteeg, University of Colorado Health, Laymen Lewis Financial Group, Carrico Family Foundation, Exponential Engineering Company; Bowl Sponsors – Anhueuser-Busch, New Belgium Brewing, Kiwanis Golden K, KRJ Oak Street, LLC, First Bank, Gary Hixon Designs, Vision Financial Group, Motherlove Herbal Company, Otter Cares, Flood and Peterson, Microbial Research, Inc., Dohn Construction, Professional Document Solutions, Inc., Fort Collins Walmart Supercenter, Carole's Commercial Cleaning, Westminster Presbyterian Church; Cup Sponsor – Donald Crews, Friendship Hospital for Animals, The Roche and Monahan Family, Spirit of Joy Lutheran Church, James O'Neil, Crane and Seager Orthodontics, Kennedy and Coe, Poudre Valley REA, Dellenbach Motors, Advanced Energy Industries, Ranch-Way Feeds, Serimus Foundation Cargill; Ladle Sponsor – Spring Creek Dental PLLC, Jorgenson Family Foundation, Geoff Engelhardt, DDS PC, Wilbur and Raye Blundell,Taco John's, Eileen Donahue.
We would also like to thank the following bowl and auction donors: Audrie Mergelman, Beate Walde, Bill Filson, Billie J Colson, Bob & Eileen Edelman, Cindy O'Neill, Cole Thompson, Curt McDonald, Daniel Slack, Daryl Price, David Wilson, Deanne Mulvihill, Diane Wood, Gloria Austin, Heather Dieter Bartmann, Hoyle Curtis, Jerry Phillips, Jill Anne Popplewell, Jim Digby, Joe Aiken, Judy Sprague, Kathi Kline, Kathleen Beaudette, Leslie Jimmerson, Libby James, Lou Beatty, Morris Frank, Nancy Zoller, Nicole Harry, Pat Dietemann, Patti Andre, Reid Shay, Rich Crowell, Rolf Christophersen, Rosalie Allen, Sandy Charles, Sandy Roerig, Sue Ellen Alishouse, Susan Sternlieb, T.S. Berger, Teresa Strong, Tom Berger, Cache La Poudre Middle School, Colorado State University ACE Program, Fort Collins High School, Fort Collins Pottery Studio, Fossil Ridge High School, Front Range Community College, Lesher Middle School, Lincoln Middle School, Northern Colorado Potters Guild, Poudre Community Academy, Poudre High School, Susan Sternlieb and Webber Middle School, American Furniture Warehouse, Bas Bleu Theatre Company, Clothes Pony & Dandelion Toys, Fort Collins Symphony, Horse & Dragon Brewing Co., Illustrated Light Gallery, Lawn Doctor of Fort Collins, Myriad Art & Framery, Northern Colorado Potters Guild, Old Town Art & Framery, SuperShuttle, The Lincoln Center, Trimble Court Artisans andUnion Colony Civic Center.
Finally, a special note of thanks to Cleon Kimberling, The McCarthy Family, Nancy Tafoya, National Charity League and Palmer Flowers.
Over the last 18 years, Empty Bowls has raised nearly $600,000 to fight hunger in Larimer County. Empty Bowls began at Lopez Elementary School when an art teacher inspired his students to create empty bowls to represent those who didn't have enough to eat. Forty community members gathered at Lopez and an annual event to raise funds and awareness for hunger-relief in Fort Collins was born. In 1997, the inaugural year of Empty Bowls, the Food Bank for Larimer County distributed two million pounds of food to those in need. As Empty Bowls has grown, so too has the need in our community. Last year, the Food Bank for Larimer County distributed nearly nine million pounds of food.
https://foodbanklarimer.org/wp-content/uploads/2018/06/new-fblc-logo2.png
0
0
foodbank
https://foodbanklarimer.org/wp-content/uploads/2018/06/new-fblc-logo2.png
foodbank
2015-02-10 21:37:07
2015-02-10 21:49:08
Empty Bowls Raises Nearly $77,000 for Hunger-Relief!