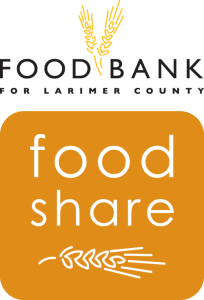 Beginning June 1, 2015, the Food Bank's Food Share pantry in Fort Collins will be changing operational days and hours to provide expanded access for Larimer County residents in need of food assistance. According to Map the Meal Gap (MMG) data recently released by Feeding America, 43,940 individuals or 14.4%, of Larimer County residents are food insecure. Further, 19% of Larimer County children are considered food insecure. Food insecurity is the U.S. Department of Agriculture's measure of lack of access at times to enough food for an active, healthy life for all household members.
"Despite reports of low unemployment, food insecurity is an ongoing concern in our community," said Amy Pezzani, Executive Director, Food Bank for Larimer County. "The 2015 Map the Meal Gap data supports what we see every day – a consistent need for food assistance. The numbers of people we serve really have not changed since 2010 and neither has the percentage of food insecure individuals in our community."
Since 2010, the Food Bank's two Food Share pantries (Loveland and Fort Collins) have served approximately 29,000 unduplicated individuals each year. Through the Food Bank's partnerships with more than 80 nonprofits and its child nutrition programs, the Food Bank serves an additional 6,000 individuals each year. Comparing the MMG data with internal Food Bank service data, there is a gap in service of approximately 9,000 individuals.
While the Fort Collins Food Share will be changing days and hours of operation, Loveland Food Share days and hours will remain the same. Altering the Fort Collins' schedule provides individuals in need of food assistance with access to a Food Bank Food Share facility six days per week. Additionally, the change to the hours of operation will allow individuals who work traditional hours to visit Food Share in Fort Collins after work.
"We believe that this change, given our current resources, will help us reach more people in need of food assistance," said Pezzani.
New Fort Collins Food Share Days/Hours
Monday – Friday; 1 – 6 pm
CSFP Distribution
Tuesday & Thursday
1 – 4 pm
Loveland Food Share Days/Hours
Tuesday – Saturday; 9 am – 2 pm
CSFP Distribution
Wednesday & Friday
9 am – 12 pm
https://foodbanklarimer.org/wp-content/uploads/2018/06/new-fblc-logo2.png
0
0
foodbank
https://foodbanklarimer.org/wp-content/uploads/2018/06/new-fblc-logo2.png
foodbank
2015-04-30 20:07:14
2015-04-30 20:07:14
New Fort Collins Food Share Days/Hours To Address Food Insecurity Service Gap