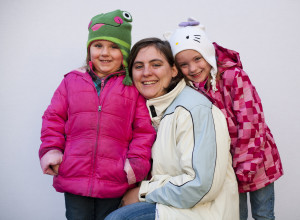 The holidays can be tough for families working hard to make ends meet. Every parent wants to provide a warm, safe and happy home for their child, but sometimes, it's not possible to cover all of the basic needs on their own. With the help of our generous community, we are able to provide families with food for their holiday meals and also get them through the cold winter months. But hunger is a year round issue and it impacts more of our neighbors than you might think. In fact, for the last five years, the number of clients we serve has remained nearly unchanged and sits 37% higher than pre-recession numbers. Last year, with help from our supporters, we provided our clients with enough food for 1.5 meals per day. Learn more about our impact on hunger in our community.
Clients regularly share with us how much the food they receive from the Food Bank means to them. For single, working mom, Brandy, assistance from the Food Bank means she has gas money to drive her daughter to the Poudre River and spend the day. For "Ani's" family of six, it means she can use her paycheck to cover rent and also know that her family will have enough to eat. For "John", food from the Food Bank has helped him rebuild his strength after facing multiple surgeries. And for "Sara", it means her family will have food on the table each night while she works on earning a college degree.
These clients and thousands of others are at the center of the work we do. As our population grows and ages and the costs of housing, childcare, education, medical and other expenses stretch beyond paychecks, we know our work will continue to be vital in this community. Our dream for the coming years is to provide not just food, but also health and hope to stabilize the lives of our clients and help them on a path to self-sufficiency which will build a vibrant community for all. Will you join us in providing our clients with hope for the future and the opportunity to succeed and thrive? Find out how you can get more involved!
https://foodbanklarimer.org/wp-content/uploads/2018/06/new-fblc-logo2.png
0
0
foodbank
https://foodbanklarimer.org/wp-content/uploads/2018/06/new-fblc-logo2.png
foodbank
2015-12-22 17:17:43
2015-12-22 17:17:43
Feeding Hope, Changing Lives