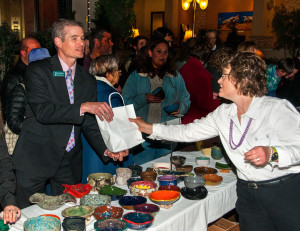 The 19th Annual Empty Bowls will be held Thursday, February 4 from 5:30 to 8:30 p.m. at the Hilton Fort Collins, 425 W. Prospect. Empty Bowls is a community-supported soup dinner and art auction benefitting the Food Bank. Guests enjoy a simple soup supper featuring soups from local restaurants. Each guest also has the opportunity to select a pottery bowl made by students in the Poudre School District or by local artists from the City of Fort Collins' Pottery Studio and the Northern Colorado Pottery Guild. This year's silent auction features pottery, woodworking, paintings and jewelry from several local artists, including TS Berger, Diane Findley, Tom Mills, Paul Versteeg and Nancy Zoller. Tickets for the event are $50 each or $95 for a pair and can be reserved online or by phone (970) 493-4477. For every ticket sold, the Food Bank can provide $250 worth of food to a family in need of assistance.
 New Restaurant Partnership
This year, Spoons Soups & Salads is the featured restaurant partner for Empty Bowls and will provide four signature soups as well as their famous focaccia bread for the event. As a perennial supporter of the Food Bank, the partnership is a natural fit.
"We are excited to expand our partnership with Spoons and to bring more of their signature soups to our Empty Bowls event and to add their famous focaccia bread to the night's menu," said Heather Buoniconti, Chief Development Officer, Food Bank for Larimer County. "Tom Stoner of Spoons is a long-time supporter of the Food Bank; in addition to participating in Empty Bowls and THE TASTE, he raises thousands of dollars each year through Stone Soup sales. We're excited to welcome Spoons as our featured restaurant partner."
To pair with the Spoon's focaccia and dinner rolls donated by US Foods, Vom Fass will donate their signature dipping oils. Ben & Jerry's will return to provide dessert for the evening and Beantrees Drive-Thru Coffee Café will provide coffee. Confirmed soup restaurants for this year's Empty Bowls include: Biergarten @ Anheuser-Busch, Austin's American Grill, Bisetti's, CooperSmith's Pub & Brewing, Café Bluebird, Enzio's, Fish, Fiona's Deli and Catering, Food Bank Community Kitchen, The Kitchen, The Moot House, PVH Café 1024, The Rio, Rise!, Silver Grill Cafe, Spoons Soups and Salads, Spring Creek Grill at The Hilton, Tortilla Marissa's and Whole Foods.
Empty Bowls History
Nearly 20 years ago, the Food Bank for Larimer County's Empty Bowls fundraiser began in art class at Lopez Elementary School when the school's art teacher inspired his students to create empty bowls to represent those who didn't have enough to eat. Since then, area artists have worked together to support the event and the fight against hunger in the community. Empty Bowls has grown from offering five signature soups in 1998 to twenty soups in 2015 and has raised $700,000 for the Food Bank's hunger-relief programs.
https://foodbanklarimer.org/wp-content/uploads/2018/06/new-fblc-logo2.png
0
0
foodbank
https://foodbanklarimer.org/wp-content/uploads/2018/06/new-fblc-logo2.png
foodbank
2016-01-21 16:35:20
2016-01-21 16:35:20
Empty Bowls Tickets on Sale