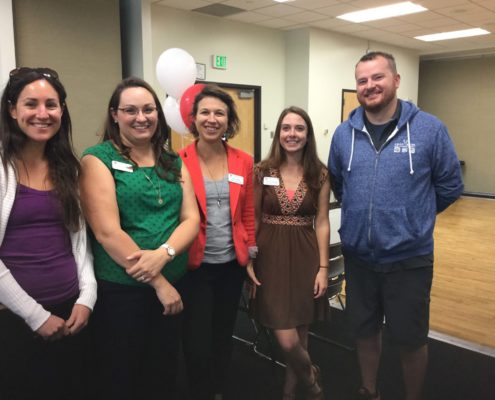 Beginning this week, the Food Bank is partnering with Volunteers of America (VOA) to offer senior meals at nine sites throughout the county. The new partnership developed after a pilot meal program last spring. Previously, VOA had been working with a contractor out of Denver.
According to VOA's Nutrition Program Manager, Emily Gorgol, VOA selected the Food Bank because they want to work with community partners who understand, prioritize and are passionate about ending senior hunger. She credits the Food Bank with "understanding the problem and wanting to be part of the solution".
Senior Hunger in Larimer County
The impact of food insecurity on seniors is far-reaching. Thousands of seniors in our community live on fixed incomes and face tough choices when it comes to making ends meet. Often, seniors have to make the tough choice between medical care/medication and having enough to eat. When seniors cut back on meals or select cheaper, less nutrient-rich foods, it is more difficult to manage illness and maintain health.
A 2014 study published by Feeding America found that seniors who lack adequate nutrition are:
60% more likely to experience depression
53% more likely to report a heart attack
52% more likely to develop asthma
40%  are more likely to report an experience of congestive heart failure.
Learn more about the impact of senior food insecurity.
Over the last 5 years, the Food Bank has seen consistent growth in the number of seniors served through the Food Share program. In fact, the number of seniors visiting Food Share has increased nearly 25% in five years. As more baby boomers retire, the Food Bank expects the trend to continue. In addition to providing food for more seniors through the Food Share program, the Food Bank has been looking for other ways to address senior food insecurity. The partnership with VOA aligns well with the Food Bank's goal to meet the needs of seniors.
Over the next 12 months, the Food Bank anticipates preparing 500 meals per week. Based on population projections and increased participation, by 2020 the Food Bank intends to grow this program by 20%. The twenty-year program goal is to serve over 800 meals per week to meet the increasing needs of seniors.
Program Launch
In preparation for the new program, the Food Bank's Community Kitchen Chef, Justin Kruger, spent the last few weeks meeting with participants to learn more about the types of foods they would like to see on the menu. Kruger looks forward to developing crowd-pleasing menus. Overall, his goal is to increase program participation by offering meals that guests look forward to each week.
To celebrate the new partnership and kick off the new menu, each VOA site is hosting a party complete with raffle prizes, music, and games led by students from Rocky Mountain High School. With the kick off parties, VOA is hoping to attract new guests and bring back others who had stopped attending over the years.
VOA meal sites are open to anyone 60 years of age or older for a suggested donation of $2.50, however, no one is turned away. Meals are offered various weekdays at 12 noon at sites in Fort Collins, Loveland, Bellevue and Wellington. See complete details.
To ensure no senior is hungry, the Food Bank needs your support. Find out how you can get involved. With your help, we can ensure the well-being of every senior in our community.
https://foodbanklarimer.org/wp-content/uploads/2014/08/Klein_142618-1703.jpg
2000
3000
foodbank
https://foodbanklarimer.org/wp-content/uploads/2018/06/new-fblc-logo2.png
foodbank
2016-09-22 11:44:57
2016-09-21 15:41:16
New Food Bank Partnership with VOA Will Provide Meals for Seniors