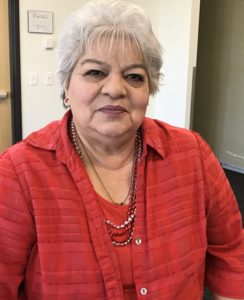 Lupe Gonzalez, a 71-year-old senior and Fort Collins resident, moved here in 1985 with her three children from Wyoming. She was a single mother working three jobs to make ends meet, including translating for Spanish-speaking patients at the hospital. Lupe worked hard and was proud to give her children a better childhood than she had.
Lupe worked her way up and earned medical terminology degree from LCCC and perfected her spoken and written Spanish skills to continue translating. She taught at an education center and helped others learn medical terminology and translation skills. During those years, Lupe was proud to be self-sufficient. "I was doing good with a good car and everything."
In 2001, she suffered a stroke, ending her earning years. It took Lupe months to recover, eventually regaining the ability to speak. However, the stroke wiped out areas of her memory, including medical terminology and her translating abilities. It took Lupe three years to qualify for disability, but only three months to run through her savings.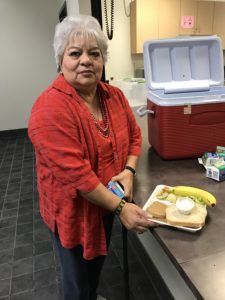 In 2004, a friend of Lupe's suggested she attend the VOA senior meal program and she's been a regular ever since. Lupe described it by saying, "I got a lot of friends here. I get to go places because they take us here and there. The food, the meals are good, too."
Lupe makes ends meet with meals at the senior lunch program and with the help of the Food Bank for Larimer County. Twice a week she helps prepare and serve senior meals at the Northside Aztlan Center in Fort Collins, Colorado. In trade for volunteering, Lupe's meals are free and there are often leftovers to bring home. She enjoys the social aspect of the meal time, including the competitive bingo games.
Lupe also frequents the Food Bank.  "The Food Bank really helps me," Lupe says.  She relies on the Food Bank as much as twice a week as long as she's not snowed in and has transportation.
With the help of the Food Bank for Larimer County and the senior meal program, Lupe worries less about putting food on the table. She does not have to make tough choices between food and paying her other expenses including housing, medicine, and transportation.
https://foodbanklarimer.org/wp-content/uploads/2018/06/new-fblc-logo2.png
0
0
Kate Shelton
https://foodbanklarimer.org/wp-content/uploads/2018/06/new-fblc-logo2.png
Kate Shelton
2017-02-24 20:42:34
2017-03-14 21:53:55
Food Bank Support Eases Tough Choices for Seniors in Our Community