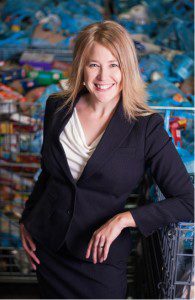 Amy Pezzani, the CEO of the Food Bank for Larimer County has been interested in social justice issues since she was a child. In college, Amy majored in sociology to follow her passion. However, it wasn't long before Amy needed help.
"I left home at 18 and paid for everything on my own. I had no financial support system and it was really hard. There were times that I worked 40 hours a week and went to school full-time, but I still couldn't make ends meet." She learned firsthand that,  "You can do everything you're supposed to do, but sometimes you can't keep up anyways. It's stressful." For a time,  Amy relied on food stamps to make sure she had enough to eat.
After college, Amy signed up for the Vista Volunteers program and volunteered at a food bank in Missouri for two years. Following that assignment, she was offered a full-time position. Shortly thereafter, the food bank's director resigned and even though she was only 25, Amy applied for the position. She was shocked and thrilled to get the job; Amy had an incredible passion and desire to help people and felt like it was a great opportunity.
She served as the director of the Missouri food bank for four years before making the tough decision to come West, to Colorado. After living here for two years, the chief executive officer position at the Food Bank for Larimer County became available. She was awarded the job and has held this position since July 2004. As the CEO, Amy is responsible for the day to day operations of the organization, including human resources, financial management, fundraising, advocacy, public relations, and strategic planning.
Her favorite part of her job is the community partnerships that she's able to help build. She says, "I love finding new ways to provide food for our community. I also like that things change all the time and that no two years, or even days, look alike. I feel inspired and motivated by learning and trying new things."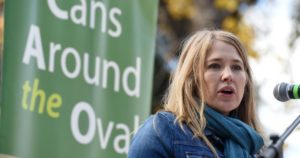 Despite the great things that come along with her job, Amy wishes people understood the Food Bank for Larimer County does not just serve the homeless population, which is just a small percentage of guests. She says, "Nearly every street in every county in our country, there is someone who has used a food bank." Amy went on to say,  "By and large, they are just in the same boat as I was in; many have degrees… They're are doing it all right, but still not able to keep up with healthcare, housing, and childcare costs."
As our community continues to grapple with housing and childcare affordability issues,  Amy sees the need for Food Bank services only increasing. "I feel like we are going to become more of a coping strategy for more people in our community." She aims to make food more accessible through partnerships, pantries, and new ideas that will reduce hunger and alleviate the stress of feeding families.
When she looks to the future, Amy is excited. She notes, "We have such a huge ability to impact public health. We are impacting the health of people because we know food insecurity leads to other chronic health conditions and when we can provide good, nutritious food, we can make an impact. I am excited to continue down that path."
When she's not working at the Food Bank, Amy prefers to be outside when she can. She mountain bikes, hikes, and runs as much as possible. She also enjoys home improvement projects and reading.
https://foodbanklarimer.org/wp-content/uploads/2018/06/new-fblc-logo2.png
0
0
Kate Shelton
https://foodbanklarimer.org/wp-content/uploads/2018/06/new-fblc-logo2.png
Kate Shelton
2017-03-08 20:05:29
2017-03-08 20:07:52
Food Bank CEO Looks to Future