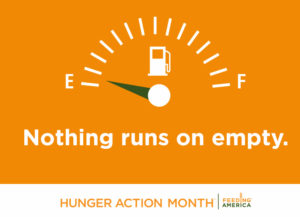 What is Hunger Action Month?
Hunger exists in every county in the U.S., affecting 48 million Americans including 15 million children. Food Bank for Larimer County along with the Feeding America nationwide network of food banks believes that hunger IS solvable and we are leading the fight to end it. We are asking everyone in America to take action to fight hunger in their community, all month long.
Hunger Action Month™ is your opportunity to get involved and make a lasting impact.
Whether it's by activating, advocating, donating or volunteering, you can find a way to make a difference this September!
Hunger Action Month is an opportunity for YOU to help end hunger in our community!
In Larimer County 14% of residents, live at or below the federal poverty guideline. In 2015, we provided enough food for 7.42 million meals, but we still have work to do to make sure no one in our community is hungry. Your support is critical to helping us fight hunger in Larimer County!
Top 10 Ways to Take Action during Hunger Action Month
1) Donate; $1 = $5 worth of food.
2) Take a tour the Food Bank. Or Invite a Food Bank staff member to speak to your office, church group or civic organization.
3) Volunteer at the Food Bank.
4) Join us for the Taste Benefit 2017 in support of the Food Bank for Larimer County.
5) Follow us, share us and love us on Facebook, Twitter and Instagram #fblc.
6) Wear orange on Thursday, September 8 to help raise hunger awareness.
7) Participate in the Empty Plate Campaign (See Below)
8) Plant It Forward! Drop off your extra garden produce at the Food Bank.
9) Start your own fundraising campaign; donate your wedding or birthday or other special occasion. Visit www.foodbanklarimer.org for details.
10) Join our Feeding Us Forward Giving Community as a monthly donor. Just $5 a month can provide $300 worth of food to a neighbor in need.
What Can't You Do on an Empty Stomach?
For the nearly 43,000 Larimer County residents who face hunger, an empty stomach makes it difficult to reach their full potential. Without fuel and nutrition, people – kids especially – do not have the energy to focus, learn, grow and ultimately, succeed. This month, we are asking you to help raise awareness with our Empty Plate campaign. Whether through a simple tweet, Facebook post or a conversation with friends and family, please help us spread the word about the realities of trying to "run on empty."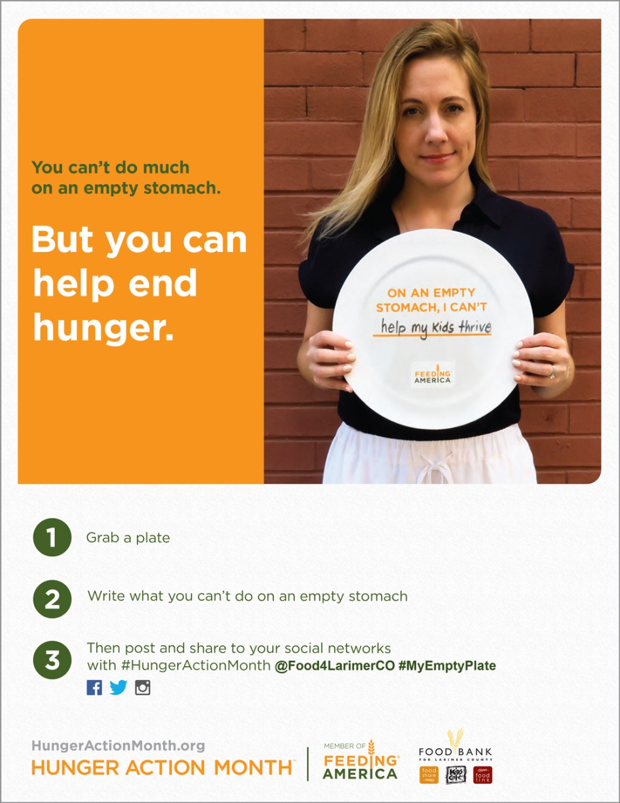 https://foodbanklarimer.org/wp-content/uploads/2018/06/new-fblc-logo2.png
0
0
Kate Shelton
https://foodbanklarimer.org/wp-content/uploads/2018/06/new-fblc-logo2.png
Kate Shelton
2017-06-22 18:53:58
2017-10-02 20:43:38
September is Hunger Action Month