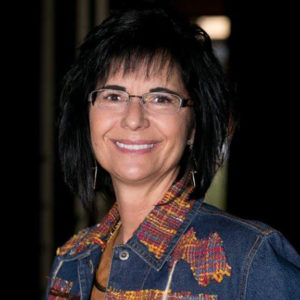 If you're wondering what goes on behind the scenes at the Food Bank for Larimer County, look no further than Stacy Stolen. Her role as Chief Compliance Officer may be little known, but it's vital to the success of the organization.  
Stacy handles all audits, compliance, and HR tasks for the Food Bank. Her day-to-day role varies widely, but focuses on hiring, collaborating with other team members for on-boarding, benefits, employee engagement, and ensuring the organization is ready at all times for audits and compliance tasks.
Based on grants, the parent organization – Feeding America – and other requirements, the Food Bank must be constantly ready to have others oversee the work, facilities, and documentation. Stacy's role ensures the Food Bank is not only meeting, but exceeding, these requirements in order to continue to provide food to those in need in our community.
She began working at the Food Bank on a part-time basis two years ago; as a result of bringing much of the work in house and the growing needs of the organization, her position has evolved into a full-time role. Stacy loves her work at the Food Bank, "I go home every day with my cup filled," she mentioned. "I love our staff and the mission we're working towards. That makes me feel great, even on the toughest days."
Stacy's favorite part of her job is the wonderful people she works with at the Food Bank. "It's delightful to be around people who are passionate; we have such a great team with different interests and personalities, but everyone believes in what we are doing."
If anything, Stacy wishes people understood the magnitude of the Food Bank. Not only does the Food Bank feed thousands through our food share and mobile pantry locations, the organization also partners with over 80 agencies to feed more in Larimer County. "Every day our staff works so hard to treat guests with dignity and respect; everyone goes way above and beyond what I've ever seen in a non-profit."
In her free time, Stacy enjoys life with her daughter and friends. She loves working in the yard and spending time outside.
https://foodbanklarimer.org/wp-content/uploads/2018/06/new-fblc-logo2.png
0
0
Kate Shelton
https://foodbanklarimer.org/wp-content/uploads/2018/06/new-fblc-logo2.png
Kate Shelton
2017-08-03 19:42:11
2017-08-03 19:44:33
Take a Look Behind the Scenes: Meet Stacy!