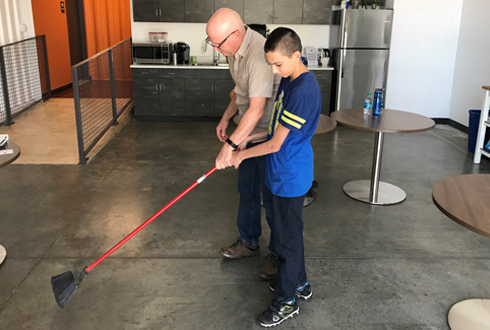 If you have been to the Food Bank's Wright Drive warehouse lately, you may have noticed a few fresh faces around. Those faces belong to Poudre School District students who are part of the ACE program. ACE stands for Alternative Cooperative Education and is a program that provides valuable work-based instruction to students who have a barrier or disability.
The Food Bank has worked with students through various PSD programs for several years. The latest partnership began when ACE Coordinator Greg Brigham reached out to the Food Bank looking for vocational opportunities for students with a wide-range of needs. Finding student work options that align with school and program schedules can be challenging and Greg was overjoyed to learn the Food Bank had jobs for just about any schedule and skill set.
"Working with the Food Bank has exceeded my wildest dreams as an internship site," Greg said. "The Food Bank volunteer coordinators have been wonderful. Our group gets to do real work in an environment outside of school. The work being done replicates tasks and skills that will be needed in future employment or volunteer settings."
Currently, seven PSD students work at the Food Bank. Most work four days a week, for about an hour and a half each day. Several of the students are very independent, showing up, signing in and going straight to work in the warehouse. A few students who initially needed additional supervision, now work independently doing tasks such as dishes, mopping and handling recycling. Still other students work directly with a paraprofessional to help as they sweep, mop, sort, break down boxes and organize. A paraprofessional is a job coach who helps the students learn new tasks and oversees their progress.
"They are getting pretty good at TEFAP production," Greg said, referring to the students and their work sorting The Emergency Food Assistance Program items. "In all assigned tasks, they've progressed beyond direct verbal and physical support to being more independent."
Greg is optimistic about the partnership continuing into next semester and beyond. "In addition to the steadily growing relationships being built between Food Bank staff and our students, what is most appreciated is the flexibility of staff to create and adapt work assignments to each student's abilities," Greg said. "Many times, young people who have difficulty in academic settings excel in work settings. Allowing them to have a taste of success just might be the catalyst towards a more fulfilling adult life."
To learn more about the ACE program, visit the Poudre School District online.
https://foodbanklarimer.org/wp-content/uploads/2018/06/new-fblc-logo2.png
0
0
foodbank
https://foodbanklarimer.org/wp-content/uploads/2018/06/new-fblc-logo2.png
foodbank
2018-07-16 21:04:43
2018-10-09 16:18:00
Students Gain Valuable Experience at Food Bank