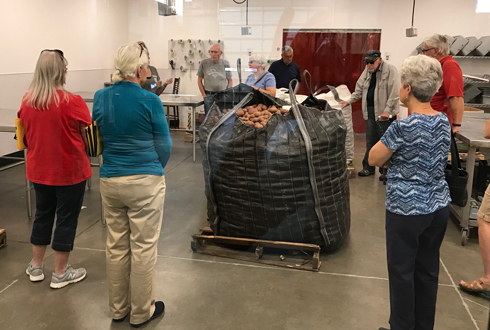 The community turned out in a big way to help the Food Bank celebrate Hunger Action Month with an open house at its new HQ and distribution facility in Loveland. Visitors were able to tour the newly-renovated 42,000-sq. ft. building, located at 5706 Wright Drive in Loveland, to see how the Food Bank is expanding to meet the need.
Attendees of the open house got to tour the 173,500 cu. ft. freezer and cooler space, see the 2,400 sq. ft. commercial kitchen, and relax in the 3,700 sq. ft. volunteer center. All of this additional space at the new facility will allow Food Bank staff and volunteers to source, store and distribute more food within the community.
The Food Bank plans to host more events at its new facility throughout the year. Stay tuned!
How We Got Here
On May 21, the Food Bank began a new chapter with a move to a new Headquarters and Distribution Center. For the Food Bank, it's more than just a new address, it's a fresh approach to hunger in our community.
Last year, the Food Bank for Larimer County distributed 9.1 million pounds of food to residents in our county. Each month, the Food Bank serves an average of 15,000 guests through its fresh food pantries alone. There is a real need in our community, often driven by wages that have not kept up with the increasing cost of living, the rising cost of medical care, and the expense of childcare.
To meet that growing need, last year the Food Bank for Larimer County announced expansion plans. Those plans have become a reality with this move.
The move primarily affects staff, volunteers and agency partners. Guests of the Food Bank's two fresh food pantries in Fort Collins and Loveland continue to shop for food as they in the past.
Please read the following FAQs about the move and don't hesitate to reach out with any further questions.
Frequently Asked Questions
WHY DID THE FOOD BANK MOVE TO A NEW LOCATION?
When the Food Bank moved into the old warehouse in the 1980s, it was distributing less than 500,000 pounds of food a year. In 2017, the Food Bank distributed 9.2 million pounds of food. The new facility offers thousands of square feet of warehouse, cooler and freezer space and will allow the Food Bank to continue to expand as the need grows in Larimer County.
WHAT IS THE ADDRESS OF THE NEW LOCATION?
Our new HQ and distribution facility is located at 5706 Wright Drive, in Loveland, near the Northern Colorado Regional Airport.
IS THE FORT COLLINS OR LOVELAND FOOD SHARE PANTRY MOVING?
No, both Food Share pantries will remain in their current locations. In Fort Collins, the Food Bank plans to lease the warehouse space and continue to distribute food through its Food Share Pantry on Blue Spruce Drive.
WILL GUESTS BE ABLE TO GET FOOD AT THE NEW WAREHOUSE LOCATION?
No, the new building will serve as a distribution facility, with no public access, except for volunteers and community partners.
WHERE CAN I MAKE A DONATION?
For your convenience, we now accept food and monetary donations at all three of our locations. Addresses and donation hours are as follows:
5706 Wright Dr., Loveland, Monday – Friday, 8 am-4 pm
1301 Blue Spruce Dr., Fort Collins, Monday – Friday, noon-6 pm
2600 N. Lincoln Ave., Loveland, Tuesday – Saturday, 9 am-2 pm
If you have further questions about the move, please contact us.
https://foodbanklarimer.org/wp-content/uploads/2018/06/new-fblc-logo2.png
0
0
Kate Shelton
https://foodbanklarimer.org/wp-content/uploads/2018/06/new-fblc-logo2.png
Kate Shelton
2018-08-28 20:56:00
2018-09-18 21:05:17
Food Bank Hosts Open House at New Distribution Facility