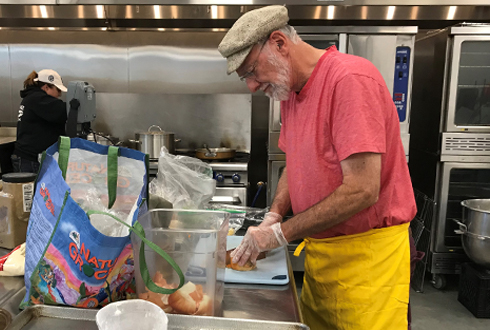 If you are at all familiar with the Food Bank, you know that we believe there are many ways to make a difference in the community. You can give of your time. You can give of your talent. And of course, you can give financially.
If you are Tom Wilburton, one of our talented kitchen volunteers, you choose to spend some of your time cooking meals for Food Bank employees. For him, preparing a meal for staff is a labor of love.
Tom's journey to the Food Bank is an interesting one, filled with good friends and good food. Born in New York City, Tom discovered a love of food early in life when he and his family would eat out in the city. "Being in New York, you had some of the world's best chefs," Tom said. "That's where my love of food first began."
After a career in the insurance business, Tom's love of food led him to Catholic Charities, where he was the kitchen manager for some 20 years. "It's funny, back then I used to tell the Food Bank I was their #1 customer," Tom said.
When he wasn't busy cooking in the kitchen or shopping at the Food Bank, Tom was looking at ways to raise money for Catholic Charities. "We would make pepperoni bread, chocolate chip cookies and hermit bars and sell them," he said. "In some months we would raise thousands of dollars."
So, what led Tom to the Food Bank? "It was just time to give back," he said. "I was good friends with then Food Bank volunteer manager Kevin Lovett. After he passed away, I decided it was time and the Food Bank was the place."
Recently, Tom decided to say thank you in his own unique way by preparing the occasional lunch for Food Bank staff. These are not your typical lunches at the Food Bank. For one of his most recent creations Tom served shrimp risotto, black bean soup and pepperoni bread. He even made a vegetarian risotto for those so inclined.
"I have fun in the kitchen. The volunteers and kitchen staff are great," Tom said. "A main reason I volunteer here is the staff. Everyone here could make more money working somewhere else, but they choose to work here. I am happy to make them lunch once in a while."
The staff at the Food Bank really appreciate Tom's gesture. And let's be honest, they really like they food, too. "Tom is a great human being," said Nutritious Kitchen manager Rhonda Niccoli. "I really enjoy seeing him on Thursdays!"
https://foodbanklarimer.org/wp-content/uploads/2018/06/new-fblc-logo2.png
0
0
foodbank
https://foodbanklarimer.org/wp-content/uploads/2018/06/new-fblc-logo2.png
foodbank
2018-11-27 21:24:02
2018-11-28 15:01:33
Cooking is a Labor of Love for Food Bank Volunteer