About Us
At the Food Bank for Larimer County, we believe no one should be hungry. Our dream is to deliver health, hope and humanity to stabilize the lives of our clients and build a vibrant community. We are a private non-profit organization and the only Feeding America clearinghouse for donated food in our county. Each year, we provide food to an estimated 37,500 people in need through community partnerships and hunger-relief programs.
VISION
A hunger-free Larimer County
MISSION
Provide food to all in need through community partnerships and hunger-relief programs.
VALUES
Integrity, Accountability, Efficiency, Dignity
Our History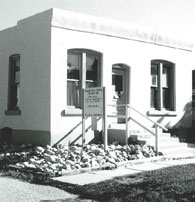 After conducting a survey in 1983, VISTA volunteer, Sandy Bowden verified a need for an efficient, centralized food collection and distribution resource that would avoid duplication of effort. She looked around the state to learn how other communities were serving the food needs of low-income individuals and determined that Larimer County needed a Food Bank. In 1984, under Sandy's leadership, the Food Bank for Larimer County opened its doors on East Oak Street.  During the first month of operation, Sandy and her volunteers were proud to provide 3,800 pounds of food to individuals and families in need. In those days, food came primarily from rotating food drives between different houses of worship. In the first 12 months, the Food Bank distributed 56,836 pounds of food. Today, the Food Bank distributes nearly 9 million pounds of food per year.
Food Bank for Larimer County
5706 Wright Dr.
Loveland, CO
Fort Collins Food Share
1301 Blue Spruce Dr.
Fort Collins, CO
Loveland Food Share
2600 N. Lincoln Ave.
Loveland, CO