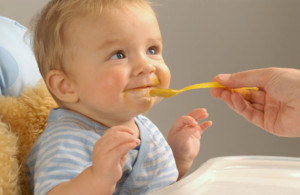 The Fort Collins Breakfast Rotary and Food Bank for Larimer County are ensuring the youngest members in Fort Collins are not being forgotten during a one-day Baby Food Drive on Saturday, September 6 from 9 am-2 pm. The Breakfast Rotary and the FBLC are challenging all Northern Colorado residents to participate in this one-day drive to provide 100 percent annual supply of baby food for the most vulnerable to hunger in our community.
The annual Baby Food Drive is taking place at King Soopers (Timberline Rd.), Safeway (Harmony Rd.) and Sprouts (Lemay Ave.) stores in Fort Collins on Saturday, September 6. All baby food donations will directly benefit the Food Bank for Larimer County.
"Baby food, formula, cereal, wipes, and diapers are really expensive even for the average family," said Amy Pezzani, Executive Director, Food Bank for Larimer County. "Our clients with young children are already struggling to make ends meet and baby food is not typically something that we see donated in large quantities or made available to us through our national network. That's why the Breakfast Rotary Baby Food Drive is so important."
"The Fort Collins Breakfast Rotary wants to make an immediate impact to fight hunger with some of the Food Bank's youngest clients, and when we inquired it became clear babies were in need of some food support," said Marc Teets, Baby Food Drive Coordinator. "We are proud of collecting over 26,000 pounds of baby food over the last six years."
All baby food, cereals, diapers and wipes, and formula will be accepted and donated to the FBLC to distribute to its clients throughout Larimer County. Breakfast Rotary representatives will also accept financial donations during the baby food drive.
https://foodbanklarimer.org/wp-content/uploads/2018/06/new-fblc-logo2.png
0
0
One Tribe Creative
https://foodbanklarimer.org/wp-content/uploads/2018/06/new-fblc-logo2.png
One Tribe Creative
2014-08-22 17:28:30
2014-08-29 14:29:09
Fort Collins Breakfast Rotary Baby Food Drive