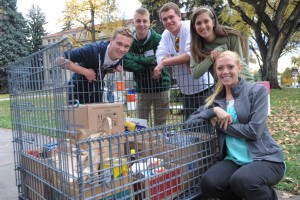 Cans Around the Oval is a Colorado State University tradition, where students, faculty, and staff partner with community members, local media, and area businesses to raise awareness about the issue of hunger, as well as raise food and monetary donations. This event is Larimer County's Largest single-day Food Drive and benefits The Food Bank for Larimer County. This year, we're celebrating an incredible 31 years of Cans Around the Oval!
Cans began in 1986 with one graduate student, Victoria Keller. As manager of the original student engagement office, Keller read a journalism student's proposal of a canned food drive, which sparked the fire for Cans Around the Oval. Keller, wanting to pursue the proposal, contacted the Food Bank's then Director, Sandy Bowden, who coined the name Cans Around the Oval. Although Sandy was too busy to be involved that first year, Keller and two other students decided to take on the efforts of orchestrating Cans Around the Oval.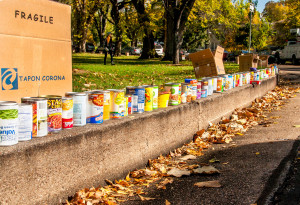 Cans started with one student wanting to make a difference; 31 years later over 16,000 people from the Colorado State University campus and local community are continuing the tradition and making it even more impactful every single year. Despite such encouraging gains, hunger frequently strikes the most vulnerable people in our communities, especially children. 1 in 5 kids in our community are not receiving enough food to meet their daily nutritional needs. These numbers serve to highlight how much this program is still needed today. Cans Around the Oval's growth is truly inspiring. An idea that was sparked from a class assignment has now become part of Colorado State University's history. One person can change people's lives and every year thousands of people come to the Oval to do just that.
In alignment with September's Hunger Action Month and CSU's homecoming, Cans takes place over a month-long period. Students, staff, faculty, and other participants compete to collect the most cans of food. On October 11, students work together to create the most interesting sculptures and art from cans in the middle of campus as part of the CANstruction event. The final collection day is October 18, when cans are counted and placed along the Colorado State University Oval.
Important Cans Dates:
Cans Around the Oval Kick Off Day – September 14, 2017
Cans Around the Oval CANStruction – October 11, 2017
Cans Around the Oval Collection Day – October 18, 2017
Click here to learn more about Cans Around the Oval and get involved!
http://www.foodbanklarimer.org/wp-content/uploads/2015/11/food-bank-larimer-logo-fa.gif
0
0
Kate Shelton
http://www.foodbanklarimer.org/wp-content/uploads/2015/11/food-bank-larimer-logo-fa.gif
Kate Shelton
2017-08-21 15:09:49
2017-09-15 15:10:17
Cans Around the Oval 2017