Fund and Food Drives
Community sponsored fund and food drives are vital to Food Bank operations.  Contributions from businesses, schools, churches, community organizations and individuals generate thousands of meals for families, children and seniors each year.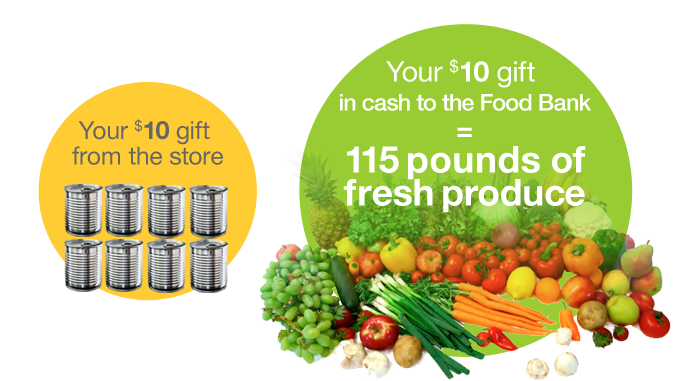 Fund Drives
Please consider hosting a Fund Drive in place of or in addition to your Food Drive.
$1 donated= $5 worth of food
To learn more, please read through our External Fundraising Event Policy then call 970-530-3105 or email Emily Schwartz to register your Fund Drive.
Please note: As an accredited business with the Better Business Bureau, the Food Bank for Larimer County adheres to the following practices: Third parties holding fundraising events must "clearly disclose how the charity benefits from the sale of products or services (i.e., cause-related marketing) that state or imply that a charity will benefit from a consumer sale or transaction. Such promotions should disclose, at the point of solicitation:
The actual or anticipated portion of the purchase price that will benefit the charity (e.g., 5 cents will be contributed to abc charity for every xyz company product sold)
The duration of the campaign (e.g., the month of October)
Any maximum or guaranteed minimum contribution amount (e.g., up to a maximum of $200,000)."
For questions about our fund drive policy, please contact Emily Schwartz.
Host A Healthy Food Drive!
Community-sponsored fund and food drives are important sources of nutritious food for those we serve. We are so thankful for all efforts to fight hunger in Larimer County!
To help move our clients from hunger to health, we ask you to sponsor a healthy food drive. Healthy Food Drives give the gift of health to our neighbors in need.
Healthy Food Drives Are Easy!
Fill out the online Food Drive Application
Print off Healthy Food Drive Poster(s) or Holiday Food Drive Poster(s) to promote your event. (PDF Format.)
Schedule a time to pick up additional food drive materials (posters, barrels, boxes, etc.)
Check the list of most needed food items.
Have fun!
Questions? Email Emily Schwartz.
Please NOTE:
Please note, due to resource constraints, food drive pick-up is only available for drives collecting over 1,000 pounds (approximately 1,000 cans or 5+full barrels).  We cannot guarantee pickups, specific pick up times or dates. We will make every effort to work you into our regularly scheduled routes. Please call 970.493.4477 for more information. 
We cannot supply food drive barrels in March & April due to the Corporate Food Fight event. Due to high demand, we are currently out of boxes. You are welcome to use your own boxes to collect food drive items.

Due to limited staffing resources, we are unable to deliver food drive materials (barrels, boxes, posters, etc.)
We are not open on weekends for pick up or drop off.
Most Needed Items
Peanut butter (non-hydrogenated oil)
Canned meat/fish (chicken, salmon, tuna)
Canned Fruit in Fruit Juice
Whole Grain, Low Sugar Cereal
Whole Grain Pasta
Brown Rice
Macaroni and Cheese