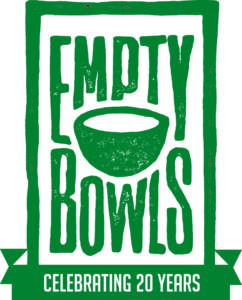 Mike McCarthy, a Lopez Elementary School art teacher, saw a small article in the local newspaper, The Coloradoan, about the Spring Creek Flood. The article detailed how this major catastrophe drained resources from local agencies such as the Food Bank for Larimer County.
In an effort to help, McCarthy decided to apply for an E3 Grant through the Community Foundation for a total of only $275.00 along with two other art teachers and a parent of one of his students. This group was awarded the grant and hosted the first Empty Bowls event at Lopez elementary school. About 40 people attended the first event and helped raise $2,000.
Since then, McCarthy has spent the last 20 years volunteering his time for this event. He has lent a hand for nearly every aspect, including finding local art teachers to participate, coordinating local restaurant involvement, and gathering donations for the silent auction. Mike is still involved to this day.
When asked, Mike said he thought the biggest impact the 20 years of Empty Bowls has had is the increased awareness of hunger in our community and the chance to build future donors to the Food Bank. "When elementary students are exposed to idea of hunger and food insecurity, it builds awareness and teaches them even though they are young, they can make a difference, take action, and help others in need." It gives them the chance to grow up with an appreciation for social action which, "makes them more likely to continue that spirit into adulthood."
He remembered one event in the early years at Poudre High School. The art teacher was hosting the annual Bowl-a-Thon in order to create the ceramic bowls in class that would be donated to the upcoming Empty Bowls. One student stopped the class and asked to speak. She thanked everyone for participating and gave the testimonial that her family relies on food from the Food Bank to survive. Mike recalled thinking during her speech, "When we make these bowls, we aren't helping other people, it's us." He went on to say as a result of her story, "It came full circle right there. It really snapped things into focus and she taught me a couple things that day."
McCarthy is very proud of the twenty year history of the Empty Bowls event. He is thrilled that people continue to respond and support the event after all these years. He said, "I'm proud that it's become an important and major fundraiser for the Food Bank; it started out as just a small school project and has become so much more than I could have hoped."
We hope you will join us for this special milestone of 20 years of Empty Bowls on February 2, 2017 at the Hilton Fort Collins. We will be celebrating with a VIP Artist Reception, a live auction clay throwing, and a special program from Amy Pezzani, CEO of the Food Bank. Learn more about this event and purchase your tickets to Empty Bowls event here.
https://foodbanklarimer.org/wp-content/uploads/2018/06/new-fblc-logo2.png
0
0
Kate Shelton
https://foodbanklarimer.org/wp-content/uploads/2018/06/new-fblc-logo2.png
Kate Shelton
2016-12-22 20:57:17
2016-12-22 20:57:17
A Small Idea Leaves a Huge Impact in it's 20 Year Legacy!