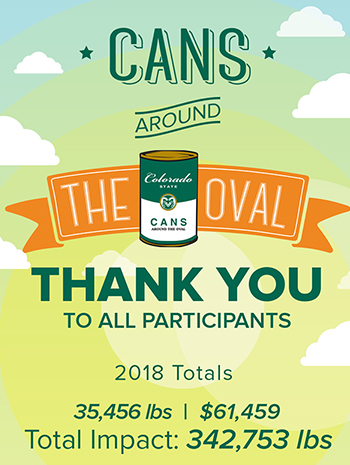 The numbers are in for this year's Cans Around the Oval event and once again the CSU community has gone above and beyond to support the Food Bank for Larimer County and its hunger-relief efforts.
In addition to collecting 35,456 pounds of food, this year's Cans Around the Oval set a record with $61,459 in monetary donations. Once sorted, the food will be distributed primarily to the Food Bank's community partners, while the monetary donations will be used to fund Food Bank programs like its Fresh Food Share pantries and Nutritious Kitchen
"Once again, the students, faculty and staff of CSU, along with other members of the community, have exceeded our expectations," said Food Bank for Larimer County CEO Amy Pezzani. "To be on campus and see the energy around the issue of hunger, and then to witness the generosity of giving is heartwarming. A special thank you to all at CSU who worked to make this event such a success."
Cans began in 1986 with one graduate student, Victoria Keller. As manager of the original student engagement office, Keller read a journalism student's proposal of a canned food drive, which sparked the fire for Cans Around the Oval. Keller, wanting to pursue the proposal, contacted the Food Bank's then Director, Sandy Bowden, who coined the name Cans Around the Oval. Although Sandy was too busy to be involved that first year, Keller and two other students decided to take on the efforts of orchestrating Cans Around the Oval.
Cans Around the Oval has grown to become a Colorado State University tradition, where students, faculty, and staff partner with community members, local media, and area businesses to raise awareness about the issue of hunger, as well as raise food and monetary donations.
In the more than three decades since Cans Around the Oval began, it has evolved to become one of the largest food drives in the Larimer County, resulting in more than 2 million donated meals.
"We want to thank all who contributed food and monetary donations, participated in CANStruction, and volunteered at Collection Day," said Sarah Stephens, senior program coordinator for the Student Leadership, Involvement, and Community Engagement (SLiCE) office, which leads the annual Cans efforts. "We also thank the Food Bank for Larimer County for their continued partnership and support with this program. We are so appreciative of the collective efforts and the significant donations raised to better support food insecure folks and alleviate some of the burdens experienced by these individuals in our greater community. We are so appreciative of everyone at CSU and in the community who gave generously this year."
Congratulations to the CSU College of Business, Office of the Vice President of Research and Rocky Mountain High School for being this year's top three donors.
Click here to learn more about Cans Around the Oval.
https://foodbanklarimer.org/wp-content/uploads/2018/06/new-fblc-logo2.png
0
0
Kate Shelton
https://foodbanklarimer.org/wp-content/uploads/2018/06/new-fblc-logo2.png
Kate Shelton
2018-05-09 15:09:49
2018-11-08 17:29:35
CSU Community Sets Record with this Year's Cans Around the Oval