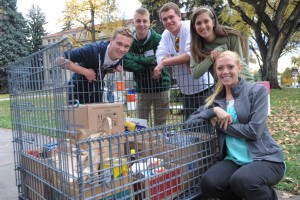 At the Food Bank, we love this time of year because everywhere we turn it seems our community is talking about Cans Around the Oval! Whether it's neighborhood kids collecting cans door to door or CSU student groups standing outside the local grocery asking for donations, you're sure to run across a Cans Around the Oval team.
This month we welcome the 29th Annual Cans Around the Oval, a Colorado State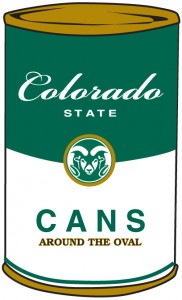 University tradition, where students, faculty, and staff partner with community members, area businesses and public schools to raise hunger awareness, as well as food and monetary donations for our Food Bank. The event is sponsored and organized by the Student Leadership, Involvement, and Community Engagement (SLiCE) office at CSU.
Last year, well over 100 groups including, CSU student and greek organizations, University offices, academic departments, PSD Schools and local faith groups worked together to raise nearly $47,000 and 47,470 pounds of food! Since its inception, Cans Around the Oval has raised $297,176 and collected 1,390,910 pounds of food!
It's not too late to register a team! To get involved, visit the SLiCE website.
https://foodbanklarimer.org/wp-content/uploads/2018/06/new-fblc-logo2.png
0
0
foodbank
https://foodbanklarimer.org/wp-content/uploads/2018/06/new-fblc-logo2.png
foodbank
2015-10-01 15:30:06
2015-10-13 15:42:01
Cans Around the Oval is October 21