The Corporate Food Fight, an fundraiser for the Food Bank for Larimer County, was a great success in 2016. Thirty businesses in Larimer County participated in the event raising a total of $161,116 and 5,678 pounds of food to fight hunger in Larimer County!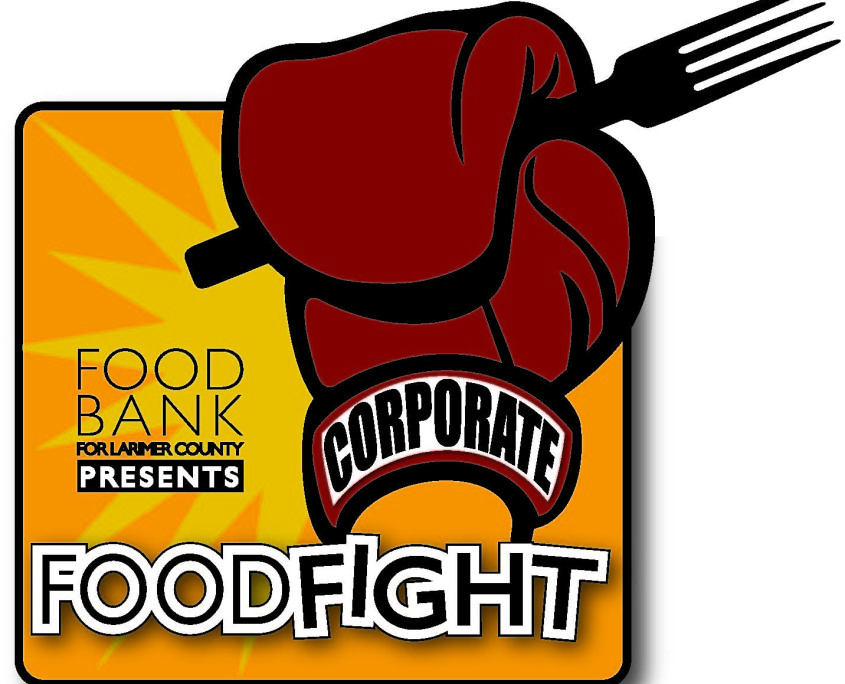 Winners of the Food Fight were announced May 31st at a closing ceremony. The Grand Champion of the 2016 Corporate Food Fight was Nvidia, who raised $44,102; the Impact Champion was AMD with $14,538 and 518 pounds. The Corporate Champion was Intel with $12,115 and134 pounds. The Newcomer Champion (awarded to best new team) was MINI of Loveland with $6,207 and 61 pounds. The winner of the Golden Apple – Financial/Banker's Battle Award: Davis Wealth Management Group of Wells Fargo Advisors $12,089 and51 pounds.
As a major fundraising event for the Food Bank for Larimer County, the Corporate Food Fight is a critically important campaign to raise food and funds during a time when resources start to wane after the holiday season. Each year, teams employ creative measures to raise food and funds, including chili cook-offs, bake sales, penny wars, shopping cart races and more. Events encourage team engagement and fun all while raising resources for a good cause. The 2016 Corporate Food Fighters include: Agrium/CPS, AMD, Broadcom, Clay Pot Creative, Constant Contact, Country Financial, Cornerstone Home Lending, Employment Solutions, Encompass Medical Partners, Encompass Technologies, First National Bank, First Western, FirstBank, Flood and Peterson, HPE, HPI, Intel, Liberty Tax Service, LPR Construction, Mini of Loveland, New Belgium Brewing Co., Northern Colorado Commercial Association of Realtors, NVIDIA, Odell Brewing Company, PROSCI, Quality Engineering, Tolmar, UCHealth, Verus Bank, Water Pik, Wells Fargo Advisors – Davis Mgt. Group, Westers Roofing, Woodward and Xcel Energy.
About Food Bank for Larimer County:
Founded in 1984, the Food Bank for Larimer County is the county's only Feeding America clearinghouse for donated food. In 2015, the Food Bank provided 8.9 million pounds of food to low-income residents through three programs: Food Share, Kids Cafe and Food Link. Food Share is a client-choice, fresh food pantry with locations in Fort Collins and Loveland that provides donated and government food to income qualifying individuals up to two times per week. Nearly 29,000 Larimer County residents received assistance through Food Share last year. Kids Cafe provides free, nutritious meals to low income children after school and during the summer. The Food Bank prepared and delivered over 81,000 meals to at-risk children last year. Food Link provided food to 87 non-profit organizations for use in their programs for low income individuals. These organizations include food pantries, soup kitchens, after school programs and domestic violence shelters among others. For more information please visit www.foodbanklarimer.org or www.facebook.com/foodbankforlarimercounty.
https://foodbanklarimer.org/wp-content/uploads/2018/06/new-fblc-logo2.png
0
0
foodbank
https://foodbanklarimer.org/wp-content/uploads/2018/06/new-fblc-logo2.png
foodbank
2016-06-07 16:30:13
2016-06-30 19:55:19
Corporate Food Fighters Raise Record-Breaking $160,000+ to Fight Hunger in Larimer County