After two years of study and planning, we have made the decision to expand our warehousing operations to increase capacity to store and distribute more food to meet growing demand in the community.  We've experienced a 50% increase in visits to our Food Share pantries since the Great Recession started in 2008. Over the last 8 months, in particular, we've seen record numbers of households visiting our Food Share Program where we are providing food for up to 2,000 individuals per day. The need in Larimer County is being driven by wages that have not kept up with the increasing cost of living. Monthly rents in the Fort Collins/Loveland area increased 41% between 2011 and 2016 to an average $1,273 per month1. For families with children, local childcare costs are among the highest in Colorado, which ranks 7th in the United States for most expensive infant care2   Additionally, more than 1 in 10 jobs pay less than $11.30 per hour3.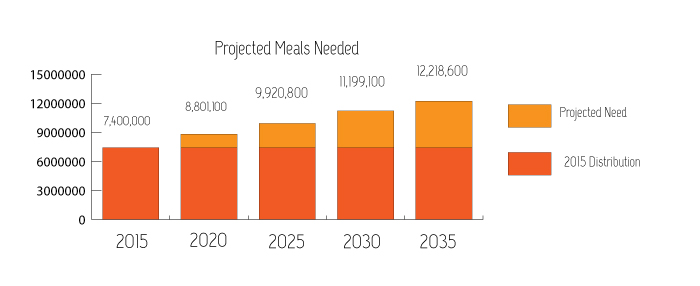 Today, the Food Bank for Larimer County serves approximately 84% of the 42,880 food insecure residents in Larimer County. Population growth projections alone require us to plan to serve more households into the future. That factor combined with the results of our Gap Analysis Study last year helped us establish an ambitious, but necessary goal to provide food for nearly 5 million more meals annually (based on 2015 numbers) by 2035 in order to achieve our vision of a hunger-free Larimer County. In 2016, we provided food for 7.6 million meals. We intend to grow that number to 12.2 million meals annually by 2035. However, our current facilities in Fort Collins and Loveland do not provide adequate storage space or infrastructure to keep pace with the growing demand or to meet future goals.
When we acquired our current location at 1301 Blue Spruce in 1987, we distributed less than 1 million pounds of food per year. Thirty years later, we are distributing more than 9 million pounds of food annually from the same distribution facility. Given that growth, you might expect that our current warehouse presents many challenges. First, the parking lot is too small to safely accommodate the large tractor-trailers that now deliver our food. This poses issues for our Food Share guests, volunteers, and staff as they navigate the parking lot. Additionally, we don't have room to accept all of the donated food that is offered to us because we are out of space. This represents a lost opportunity to distribute more food. With space to store only about two weeks' worth of food, we have a very small margin of safety for times when demand is high or donations are scarce. Freezer and cooler spaces are particularly limited, but we also have insufficient room for shelf-stable items.
We are currently under contract for space near the Fort Collins/Loveland Airport. The new building increases our capacity to store and distribute more food. Our initial plans call for a 618% increase in cooler and freezer spaces, 212% increase in the Community Kitchen footprint and a 3,700 square foot dedicated volunteer space. We will continue to operate our Food Share food pantry locations in Fort Collins and Loveland during and after the transition. The project is expected to be complete within the next 18 months.
According to Amy Pezzani, CEO, Food Bank for Larimer County, "We are confident that the new facility addresses many of our current challenges and positions us to prepare to meet the need in our community for several decades to come."
________________________________________________________
1: First Quarter 2016 Colorado Multi-Family Housing Vacancy & Rental Survey sponsored by the Colorado Division of Housing
2: 2016 report by the Economic Policy Institute
3: Bureau of Labor Statistics data for May 2015
https://foodbanklarimer.org/wp-content/uploads/2018/06/new-fblc-logo2.png
0
0
foodbank
https://foodbanklarimer.org/wp-content/uploads/2018/06/new-fblc-logo2.png
foodbank
2017-04-07 14:31:14
2017-04-07 14:31:14
Food Bank Announces Expansion Plans