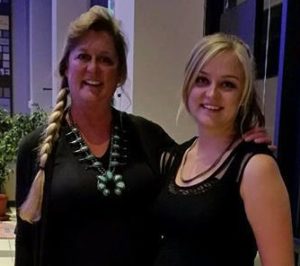 When Sandy Beardsley, mother of three children, found herself divorced, living in Indiana, away from her family, with no financial support, she had to think fast about how she would be able to feed herself and her kids. Working off the advice of a friend who said, "you're a good cook, why don't you try catering," that's exactly what she did.
Sandy got a cooler and began making simple bologna sandwiches with side dishes to sell to mill workers at the steel mills outside Chicago. During this time, Sandy frequented the Food Bank in Indiana to help makes ends meet for her family.
With the little money she made from her lunch route and the cost savings the Food Bank provided, Sandy eventually scraped together enough money to move back to Colorado to be near her family. She lived with her mother for the first year and began utilizing the Food Bank for Larimer County's services. She worked hard and saved where she could in order to pull her family out of the need for the Food Bank.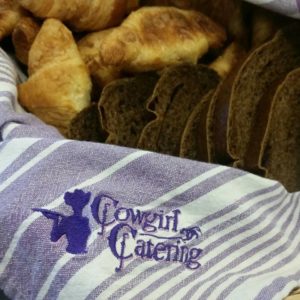 Cowgirl Catering, working all over Northern Colorado. The company has two catering vans and is in the process of building a commercial kitchen. Sandy has cooked for many well-known bands at the Greeley Stampede and many big events in our community including CSU Equine Events, weddings, and parties. Cowgirl Catering is a well-known catering business in this region of Colorado.
If fact, Cowgirl Catering recently catered a volunteer recognition event for the Food Bank for Larimer County. She made a Seven Layer Bean Dip, Turkey Roll Ups, and many other great dishes for the event and guests were very impressed with the food offerings.
When asked about the Food Bank, Sandy commented, "The Food Bank helped keep the cost of raising my family down, so I could eek my way along. It took me a long time to save enough to move and get back on my feet."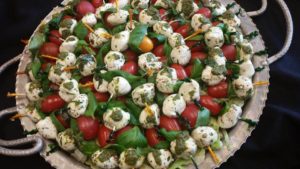 "I couldn't have done it without the Food Bank. I fed my family everyday for 5 years, 3 years in Indiana and 2 more in Colorado." Without the Food Bank, "I couldn't have even made any money. Using their services allowed me to build my business because I didn't have to worry about food as much."
Sandy went on to say, she, in-part, credits the success of Cowgirl Catering to the Food Bank. "I have a successful business because it gave me that leg up."
By reducing her family's food insecurity, Sandy was able to focus her talents and energy towards building a successful catering company with her daughter; a small-business that now supports them well.
https://foodbanklarimer.org/wp-content/uploads/2018/06/new-fblc-logo2.png
0
0
Kate Shelton
https://foodbanklarimer.org/wp-content/uploads/2018/06/new-fblc-logo2.png
Kate Shelton
2016-12-22 17:53:34
2017-01-09 16:59:20
Food Bank Use Comes Full Circle