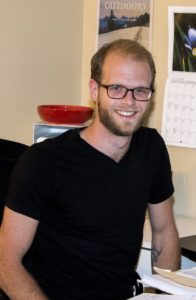 In the simplest terms, Josh Greene is responsible for getting food for the Food Bank for Larimer County to provide to families, children, and seniors in need in our community, but his role is anything but simple.
Greene grew up in Fort Collins, attending Poudre High School, and when he decided to settle down and start a family he headed back home; he now has three children and loves living here. Josh says he got into this career by accident. 
He worked in audio production, drove a truck, and then began managing a local food distribution company's logistics and operations. When he saw a job posting for a similar role at the Food Bank for Larimer County he knew it was a perfect match of his skills and passion. At the Food Bank, Josh is the Food Resource Manager, in charge of all sourcing and transportation of food. He spends his day working to determine what the Food Bank needs, finding available food from retail partners, local farmers, and other organizations, and managing the logistics of getting it in house. 
Josh navigates partnerships with Feeding America, local retailers, and farmers, to source donated food that the Food Bank, in turn, distributes to people in need. While the food is donated, the Food Bank does have to pay transportation fees and other associated costs. However, Josh works hard to keep costs low, in fact, on average, the Food Bank pays less than $0.15 per pound for the food it distributes. Last year, the Food Bank distributed more than 9 million pounds of food through its hunger-relief programs. More than 3 million pounds of that food came from retail donors within Larimer County. An additional 25% of food was sourced from local Colorado agricultural producers and the remainder was acquired from national partnerships based on availability. Last year, the Food Bank served more than 36,000 individuals. 
When asked about his favorite part of his job, Josh said, "I like food system development. I thoroughly enjoy being a part of building a strong local food economy, working to reclaim waste and make food accessible to everyone."
He wishes people better understood the scale at which the Food Bank operates. "There is a misconception that we are operating out of a garage and only distributing at church pantries, but it's more than that. If people understood the scale, they would understand the need."
Josh relayed a story of one Food Share client saying to him, "Thank you for feeding me today." That sentiment has stuck with him to this day and he comes to work every day intending to do just that.
Watch this short video of Josh detailing the scale at which the Food Bank for Larimer County operates.

https://foodbanklarimer.org/wp-content/uploads/2018/06/new-fblc-logo2.png
0
0
Kate Shelton
https://foodbanklarimer.org/wp-content/uploads/2018/06/new-fblc-logo2.png
Kate Shelton
2017-01-06 17:25:10
2017-01-06 20:01:20
Food Resource Manager Plays an Integral Role at the Food Bank