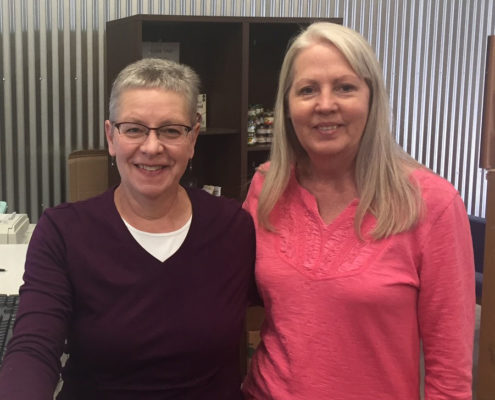 After retiring a few years ago, Beth McTernan and Diana Christopherson shared a common goal.  Both wanted to volunteer their time in order to give back to the community. Their ambition led them to join the Food Bank volunteer team.
"I've always been concerned about food insecurity," shared Beth. "Volunteering at the Food Bank has allowed me to take action and help connect people with the food they need."
Beth and Diana met as volunteers at our guest check-in desk at our Fort Collins Food Share pantry. The women volunteer for three hours each week. They agree that the best part of volunteering at check-in is interacting with guests and making sure everyone feels welcome.
"I enjoy greeting guests with a big smile and making them feel comfortable," said Diana.
Beth agrees that it's important to make each guest feel at ease. "It's not easy to come to the Food Bank for the first time. I try to reassure guests that it's okay. I also like to make sure that everyone is familiar with what the Food Bank does and other resources that are available."
Over the years, Beth and Diana have come to know Food Share guests and have taken the time to learn their stories. However, they are still surprised at the number of seniors and veterans who walk through the doors. "I just always assumed they were taken care of, but now I know it's getting harder to make ends meet" commented Diana.
Beth and Diana agree that all of the guests are grateful to have a place to get good, fresh food.
"At the end of the day, I hope I've made a difference and made people feel better," said Beth.
https://foodbanklarimer.org/wp-content/uploads/2018/06/new-fblc-logo2.png
0
0
foodbank
https://foodbanklarimer.org/wp-content/uploads/2018/06/new-fblc-logo2.png
foodbank
2016-11-02 16:59:47
2016-12-02 15:25:36
Volunteering = Giving Back