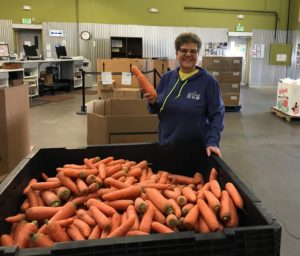 Jan is the Fort Collins Food Share Manager at the Food Bank; every day she brings her infectious smile and warm hugs because she knows the face of hunger. "Jobs don't pay enough and people just don't have enough to afford to pay bills and feed their families. I've been there, my children have been there, my granddaughter is there. Hunger doesn't end."
She fights hunger by serving as the manager of  Fort Collins Food Share, a grocery store-like operation where people can come 'shop' for food, at no cost, when they struggle to have the resources to cover their basic needs. Her team is made up of two full-time employees and 6-8 volunteers, daily. Together they set up Food Share and manage the check-in and distribution process. She also trains volunteers and helps answer any guest questions about the process and available foods.
The Food Share program is one of the nation's largest, client-choice, fresh food pantries. Jan and her team work to distribute fruits, vegetables, bread, meat, and dairy to over 14,000 residents each month. Individuals qualify for Food Share based on gross monthly income. The goal is to provide each person with enough food for at least one meal per day.
"My favorite part of my job has to be the children," said Jan.  "I have had the opportunity to form many great relationships. I look forward to seeing them and I think they look forward to seeing me, too". Regardless of age, Jan enjoys talking to all guests and knows hearing their stories is a great privilege. She's proud of the report she and her team have been able to establish with many guests.  "An important part of my job is to recognize that we're here to listen to what they have to say and hear their stories; it's more than just giving them food."
Another major facet of her job is customer service. Not only does she want every guest to find something they can eat, regardless of their cooking facilities, but also to feel welcome. "We want everyone to know that we're happy they've come!"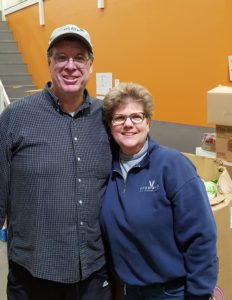 In Jan's seven years at the Food Bank, she's seen lots of changes, including a dramatic increase in need. Fortunately, food donations and community support have also increased. She's also seen a focus on providing  fresh and nutritious foods to guests. She wishes people knew, "The Food Bank is not just about homeless people. Everyone should be aware that our services are for anyone; it's for people who are struggling to feed themselves and their families."
One of Jan's most poignant stories from her time working in Food Share is of a little girl and her mom. The mother was in poor health and the girl was usually very hungry when they arrived. Jan always tried to make sure to get her something to eat while her mother shopped. One time, the girl said to Jan, "If something happens to my mom, you'll be here to take care of me and my baby brother."
As a result of stories like this and her daily interactions with guests, Jan feels very proud to be working in Food Share. She notes, "It's great to know that most everyone is really grateful for our services. They all leave with a shopping cart full of food and a happy face."
https://foodbanklarimer.org/wp-content/uploads/2018/06/new-fblc-logo2.png
0
0
Kate Shelton
https://foodbanklarimer.org/wp-content/uploads/2018/06/new-fblc-logo2.png
Kate Shelton
2017-04-11 15:05:42
2017-04-11 15:05:42
Hunger Doesn't End - Why Food Share Manager Works Hard Everyday