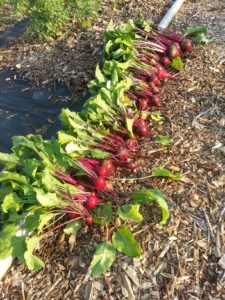 Now that Karen, a long-time Fort Collins resident, is retired, she has more time to garden. And for the last few years, she's shared her bounty with neighbors experiencing hunger through our Plant It Forward program. Plant It Forward, is a partnership between the Food Bank and the Gardens on Spring Creek, that encourages produce donations from backyard gardeners and local farms to help provide nutritious food to guests of the Food Bank. All community members are invited and challenged to plant an extra row in their garden; when crops are ready, donations – both large and small – are given to families, children, and seniors in our community.
When Karen retired, she began devoting more of her time to her love of gardening. Through her work with the Gardens on Spring Creek, she learned about Plant it Forward and immediately felt it was a natural fit for her passion for gardening and her desire to give back to the community that has given so much to her.  "I connected all the dots and recognized, I want to garden more. This program gives me a good reason to and it goes to a good cause. It is perfect for me."
Since the beginning, Karen has been an amazing ambassador for the program. She began small and last summer, she was able to grow over 1,000 pounds of produce to donate to the Plant it Forward program. She uses her large garden plot to grow everything from early season crops of lettuce, peas, and spinach to squash, peppers, onions, beets, kale, and much more. She is also a Plant It Forward Champion, meaning she collects donations from gardeners in her neighborhood to drop off at the Food Bank.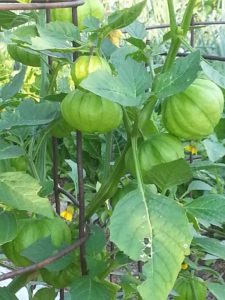 Karen mentioned, "I am committed to my Fort Collins community; I just love this place. I always knew I could do more to give back and I wanted to do something that would make a difference. Combined with my passion for gardening, Plant it Forward is a great way for me to help those who are less fortunate."
She wished more people knew about the program and how easy it is to participate. "Even if folks don't have a big garden or extra produce to donate, every little bit helps."
According to the USDA , "people who eat more vegetables and fruits as part of an overall healthy diet are likely to have a reduced risk of some chronic diseases." Your donation will help feed neighbors in need leading to a healthier and more vibrant community for all. Plant it Forward is made successful by backyard gardeners of all levels and of all donation sizes coming together to fight hunger in our community. Karen Plants it Forward, will you? Click here to learn more about the program and how you, too, can participate.
https://foodbanklarimer.org/wp-content/uploads/2018/06/new-fblc-logo2.png
0
0
Kate Shelton
https://foodbanklarimer.org/wp-content/uploads/2018/06/new-fblc-logo2.png
Kate Shelton
2017-04-27 16:08:03
2017-04-27 16:08:03
Karen Plants it Forward... Will You?