This summer, Food Bank for Larimer County's Kids Cafe is providing free summer meals in Fort Collins, Loveland, Wellington and Estes Park. The Food Bank plans to serve 56,000 meals during June, July and August. Every day in June the Community Kitchen produced:
400 snacks for three locations,
970 lunches for twelve locations,
and 150 breakfasts for two locations.
Summer meals give children a chance to access good meals and to try new things that are healthy and tasty.
"Chili Hoagies are a big hit" said Justin Kruger, Food Bank Executive Chef and Community Kitchen Manager, "the spicy chicken taco was very popular on Wednesday.  Our varieties of baked taquitos are all well liked.  The cinnamon sugar tortilla roll-up has been a big breakfast hit." Justin runs kitchen operations along with Mike DeBonte.
Liz Donovan, Food Bank Programs Manager and registered dietitian, oversees the planning and production of foods every week. All meals and snacks meet or exceed USDA guidelines. Meals are prepared fresh in the Kids Cafe kitchen by volunteers under the supervision of Food Bank staff.
Nearly one in three students in Larimer County schools qualifies for free or reduced lunch. For these children, summer vacation means no school meals and the prospect of going hungry. Children from families that struggle with food insecurity are more likely to experience poor physical health and hospitalization,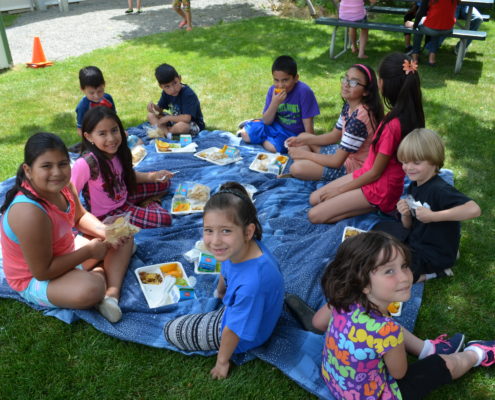 developmental delays, and often struggle in school. Many of the risks of being food insecure are the same as those of becoming obese including limited resources; lack of access to healthy, affordable foods; cycles of deprivation and overeating; and high levels of stress. While the public health crises of obesity and diet-related diseases affect all segments of the population, they disproportionally impact low-income families. The Kids Cafe program works hard to address these issues.
More than a free meal, Kids Cafe provide a chance for children to connect with friends and neighbors. At Lago Vista Mobile Home Community in  Loveland, the free meals are paired with summer programming focusing on education and a dash of fun and games. See Lago Vista Kids Cafe in action here.
New This Summer
Food Bank for Larimer County's Kids Cafe is piloting  food truck meal service at two sites in Fort Collins this summer. The meals are the Food Bank's contribution to Camp Sol, a new summer program convened by UCHealth's Vida Sana coalition. Camp Sol partners include:
UCHealth,
Vida Sana,
the Food Bank,
Poudre School District (PSD),
Healthy Kids Club,
City of Fort Collins,
Generation Now,
The Family Center/LaFamilia
Poudre River Library District
Camp Sol sponsors two sites offering fun enrichment, academic and physical activity programming for seven weeks, including weekly field trips. One site is located at the Northside Aztlan Community Center (NACC) and one is in the clubhouse at the Harmony Village community.
Bohemian Foundation is providing approximately $48,000 to support the program and other entities are offering in-kind and monetary support as well. The program expects to serve approximately 110 children ages 5-11 four days per week.
LEARN MORE
About what you can do and how to help others!
https://foodbanklarimer.org/wp-content/uploads/2016/06/DSC_0408.jpg
3264
4928
foodbank
https://foodbanklarimer.org/wp-content/uploads/2018/06/new-fblc-logo2.png
foodbank
2016-06-30 21:33:16
2016-06-30 21:34:44
Kids Cafe Fights Summer Hunger