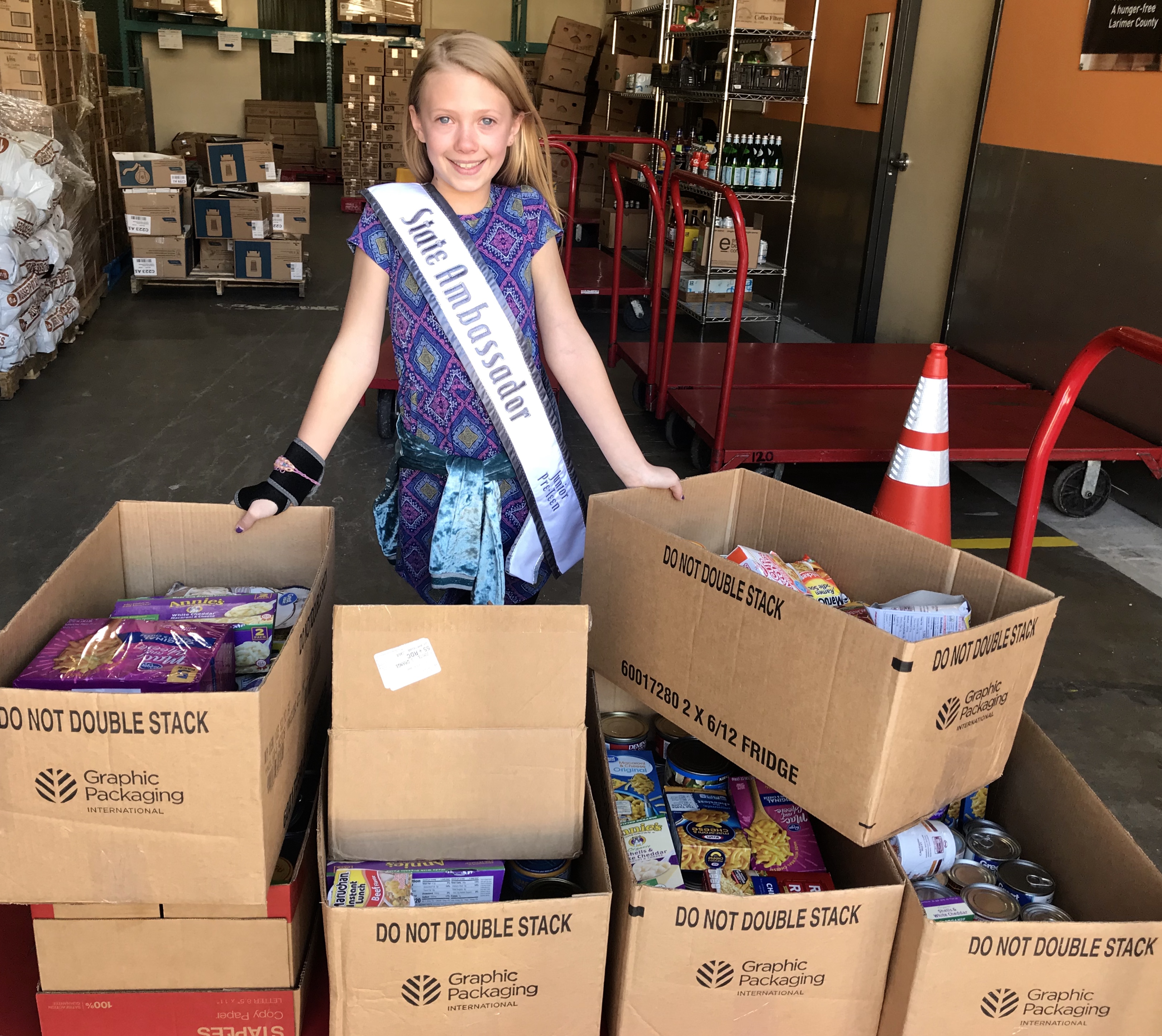 Meet Makya Finke, a 9-year old Loveland resident and a Colorado State Ambassador of the National American Miss Pageants. Not only is this little girl a force on the stage, she's incredibly passionate about ending hunger. She's started Kids Feeding Kids and is busy running a year-long campaign benefiting The Food Bank For Larimer County.
Makya has had a deep drive to help in her community for some time. She's volunteered with many organizations in her short nine years, including Kissmas Wishes, a non-profit holiday event. Because it can be difficult for children under 10 years of age to volunteer, Makya and her family decided to start her own campaign. They focused on "kids helping kids" in need and wanted to get other kids active and volunteering in our community. After a little research, Makya decided to support the Food Bank for Larimer County and that's how Kids Feeding Kids was born.
Last year, she supported the Food Bank by collecting donations online, handing out flyers, speaking to her classmates, and going door to door for donations. She raised an incredible $300 to support hunger-relief efforts.
This year, Makya has stepped up her game to take Kids Feeding Kids to the next level; she envisions a year-long campaign with even bigger goals. She has a ton of ideas for food drives and ways to get her friends involved. The Finke family helped Makya take those ideas and create a plan.
Makya has set monthly and yearly goals for collecting food donations, as well as monetary donations to support the Food Bank. Her food donation goals are 50 pounds a month – 600 pounds for the year; her monetary donation goals are $75 a month – $900 for the year. That's pretty spectacular!
She plans to host a food drive every month this year to achieve her food donation goals. In January 2018, Makya collected food and donations from friends and family. February was busy! Makya planned the event "Fly High 4 Food" and invited friends to Fly High with a food donation to join. She also built a volunteer team and they worked with Feed My Starving Children. Makya and her family have other plans in the works to help reach their goals.
Check out her Facebook page here to learn more about the big things Makya is doing in this world and how you and your children can get involved in supporting the mission of the Food Bank for Larimer County.
---
Everyone – young and old – can make a difference in the lives of the hungry. Donate to the Food Bank for Larimer County to help us fight hunger; volunteer or host a virtual fundraiser on Facebook. It takes us all to fight hunger in Larimer County and we're counting on you to help us end hunger.
https://foodbanklarimer.org/wp-content/uploads/2018/06/new-fblc-logo2.png
0
0
Kate Shelton
https://foodbanklarimer.org/wp-content/uploads/2018/06/new-fblc-logo2.png
Kate Shelton
2018-03-13 19:29:43
2018-03-15 22:11:30
Kids Feeding Kids - Makya Finke Works to Support the Food Bank