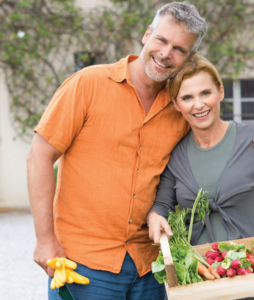 Most people contribute to nonprofit groups during their lifetime, but only a small number choose to continue this support through a charitable gift in their will or estate plan. You can be one of those special people. You can help the Food Bank for Larimer County continue to make a life-saving difference in our community with planned giving.
There is no better way to honor the people and moments that have made such an impact on your life than by giving to others. Planned charitable giving is not just for the wealthy; it is something we can all do to ensure a lasting legacy of hope.
There are many ways you can give back to your community and help others less fortunate. Ways to plan for charitable giving include:
Estate Plan – Through your estate plan, you can make provisions for those close to you, as well as help individuals who face hunger in our community. Both you and your family can benefit from your generosity to the Food Bank for Larimer County through proven, tax-wise strategies approved by the Internal Revenue Service. We suggest you consult your attorney or family estate planner for help in choosing the options best for you and your family.
Unrestricted Bequest – When you make an unrestricted bequest to the Food Bank for Larimer County, your gift will be used to provide food and hope where the need is greatest.
Restricted Bequest – Some people prefer their gift address specific emergency needs of families, to support child feeding programs, to help seniors or to be used as an endowment. We are happy to work with you and your attorney or estate planner to draft language that ensures your wishes.
Gifts That Pay Income – Some of the best ways to support a nonprofit and receive income are available through life-income gifts. There are three types of Charitable Remainder Trusts that allow donors to place resources into a tax-favored trust that pays income to the living individuals and donates the remainder to charity.
Planned giving makes a huge impact on the Food Bank for Larimer County. By providing a charitable gift in your estate plan, will, or trust, you ensure that essential programs and indispensable work for families and seniors will continue for years to come.
It's never too early to start planning; please consider a legacy gift to help feed the hungry when you are writing or updating your will or trust. A few minutes of thoughtful time now will provide the framework for a lasting legacy of nourishing and enriching lives.
If you would like more information regarding planned giving or have any questions, please contact us today – we'd be happy to help!
https://foodbanklarimer.org/wp-content/uploads/2018/06/new-fblc-logo2.png
0
0
Kate Shelton
https://foodbanklarimer.org/wp-content/uploads/2018/06/new-fblc-logo2.png
Kate Shelton
2017-02-06 20:23:16
2017-02-06 20:23:16
Leave a Lasting Legacy of Hope!