This year marks the 20th anniversary of the Empty Bowls event.  As a major fundraiser for the Food Bank, Empty Bowls raises awareness by reminding us that thousands of our neighbors face empty bowls on their tables throughout the year. For the price of one ticket to Empty Bowls, guests will help the Food Bank provide over $250 worth of food to serve hope to families in need in our community.  To mark this momentous anniversary, this year's Empty Bowls will feature a VIP Artist Reception, live auction clay throwing demonstrations, and a special program from Food Bank CEO, Amy Pezzani. Local notable artists will be performing in clay throwing demonstrations and donating original artwork to the silent auction. Artists include:
TS Berger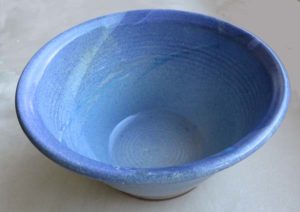 TS Berger, a retired Poudre High School art teacher of 33 years, has been making pottery bowls for the Empty Bowls event since the beginning, 20 years ago. TS took his first pottery class in 1971 from James and Nan McKinnel. He graduated from Colorado State University in 1973 as an Art Major with a Bachelors of Art Degree, emphasis in pottery. He went on to complete his Master's Degree in Art Education from the University of Illinois in 1981. TS now works out of his home studio called 'Clay Works' and makes pottery characterized as wheel thrown with brush on glaze decoration. He is a member of the Trimble Court Artisans Gallery in Fort Collins, Colorado and is also and adjunct professor at the University of Northern Colorado. In 2004, he was recognized as an Everyday Hero by Denver's Channel 7 News Station. TS and other local artists will be performing live clay throwing demonstrations during the 20th anniversary celebration of Empty Bowls on February 2, 2017.
---
Nancy Zoller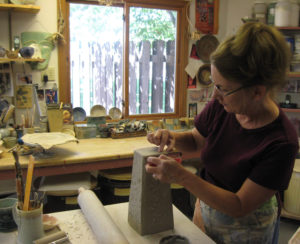 Nancy Zoller has been a potter residing in Loveland, Colorado since 1981. She graduated from Arizona State University in 1975 with a BA in Art Education, emphasis on ceramics.
Today, she primarily works with a porcelain or white stoneware clay body, creating durable high-fired pottery, through a combination of wheel throwing and hand-building techniques. Often the impression of a leaf, pine branch, pine cone, or seashell works its way into the clay surface. I believe the delicate foot on a piece is just as important as the sturdy rim.
Look closely, her color choices reflect the mountains, lake waters, and trees of the exquisite Colorado landscape.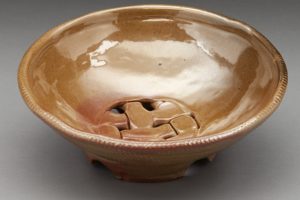 Nancy once said, "The primary reward for me in creating a piece of pottery is the realization that my work will be integrated into someone's daily life experience; a quiet, private reflection, or interaction with family and friends while sharing special moments."
Teaching clay has been an integral part of her life as a ceramic artist, conducting weekly classes and workshops that create a sense of "shared experience" within the group. "Bringing warmth and balance into the lives of others…..this is my passion." Nancy will be among the artists participating in the special live auction pottery throw and pieces of her beautiful work will be available in the silent auction of the Empty Bowls event.
---
Diane Findley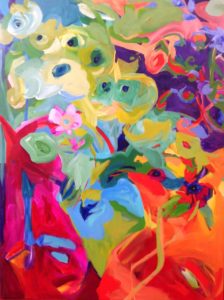 A 1976 graduate of Colorado State University and president of Trimble Court Artisans cooperative, Diane Findley is a longstanding presence in the Fort Collins arts community. She takes pride in her numerous transformer cabinet murals about town. Diane has served as Larimer County Open Lands artist of the year. Besides painting like a wild thing and maintaining a studio pottery, Diane's creative interests include music and dancing.
Diane, and other local artists including Nancy Zoller and T.S. Burger, will be participating in a special live auction clay throwing  in honor of the 20th anniversary of this event.
Diane has also graciously donated this piece of art for the silent auction portion of the Empty Bowls event. It is a Findley original, 30×40″ acrylic on canvas. The title is "The Berries of Dingle" based on a friend's travels through Europe. This piece will be awarded to the highest bidder and proceeds from this and the other pieces will benefit the Food Bank for Larimer County.
Learn more about the upcoming Empty Bowls event on February 2, 2017 at the Hilton Fort Collins and get your tickets to the event and silent auction before they sell out here.
https://foodbanklarimer.org/wp-content/uploads/2018/06/new-fblc-logo2.png
0
0
Kate Shelton
https://foodbanklarimer.org/wp-content/uploads/2018/06/new-fblc-logo2.png
Kate Shelton
2017-01-27 13:10:39
2017-02-03 17:17:44
Local Artists Contribute to Ending Hunger at Empty Bowls