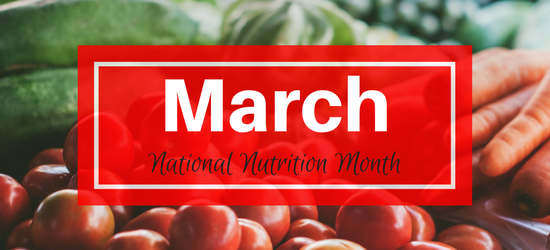 There is an undeniable correlation between hunger and health in America. Families, children, and seniors living with food insecurity are less likely to have access to healthy and fresh foods, increasing the likelihood for nutrition-related health issues. March is National Nutrition Month and the Food Bank is committed to providing healthy and nutritious food for our guests each and every month. The Food Bank works to educate and provide nutritious food through these programs:
Tasting Table – At both Food Share locations, the Food Bank provides samples of healthy meal options with take-home recipes. Recipes include items from the Food Bank shelves to give guests meal planning ideas.
Plant it Forward – In partnership with the Gardens on Spring Creek, community members donate fresh fruit and vegetables from home gardens to the Food Bank. Click here to learn more about Plant it Forward and how you can participate.
Partnerships with Health Care Providers – Currently, the Food Bank is partnering with the Family Medicine Center (FMC) to offer emergency food boxes for qualifying patients. We're working to expand this partnership and offer a full pantry this spring. We also are working with other area medical providers to offer similar services later this year.
Mobile Food Pantry – In partnerships with Colorado State University and the Foothills Unitarian Church, we offer accessible fresh and nutritious food to students and community members closer to where they live.
We recognize the strong link between hunger and health and are committing resources to make a positive impact on the health of the people we serve. Last year, we provided food to 36,000 individuals in Larimer County. Of the food we distributed, over 37% was fresh produce. By continuing to focus on providing nutritious food, we can make huge strides towards the overall health of our community.
"We have such a huge ability to impact public health," stated Amy Pezzani, CEO, Food Bank for Larimer County. We are impacting the health of people because we know food insecurity leads to other chronic health conditions and when we can provide good, nutritious food, we can make an impact. I am excited to continue down that path."
Learn more about the intersections between hunger and health by watching this short video from Hunger+Health:

To further understand the deep connection between food and health, please visit Feeding America's Hunger+Health website.
https://foodbanklarimer.org/wp-content/uploads/2018/06/new-fblc-logo2.png
0
0
Kate Shelton
https://foodbanklarimer.org/wp-content/uploads/2018/06/new-fblc-logo2.png
Kate Shelton
2017-03-07 20:04:11
2017-04-11 13:53:15
March: National Nutrition Month - Addressing Hunger+Health