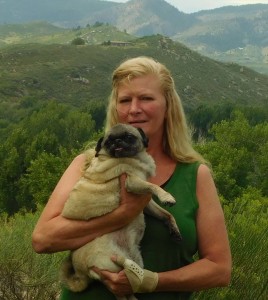 For years, Polly's business was taking care of others. She worked in assisted living centers and eventually started her own home healthcare business and cared for individuals with Alzheimer's and dementia. Polly first started visiting the Food Bank to pick up food for her clients. She remembers how excited her patients were when she returned home with great food after "shopping" at the Food Bank. "Everyone at the Food Bank was always so friendly," shared Polly.
Then, last year, Polly lost everything. She lost her job and her home after she could no longer care for others because Polly herself needed help. She started falling, she had tremors and she couldn't manage the stairs. She lived in the Mission for a month until she finally confided in a friend. That friend gave Polly a place to live and hired her to do odd jobs so she could try to get back on her feet and sort out her medical issues. Eventually, Polly was diagnosed with Stage III Parkinson's Disease. Doctors also found a brain tumor.
Until recently, medications were helping Polly manage some of her symptoms, but she still struggled with unexplained vision impairment and extreme blood pressure fluctuations. Due to her health issues, Polly was no longer able to care for others. She found a roommate and continued to work odd jobs for a while to help pay her $550 share of monthly rent. Beyond income from odd jobs, she receives $196 in SNAP benefits (food stamps) and $196 per month in additional assistance. Polly found a job at a call center, but that only lasted two days because Polly started experiencing daily seizures, sometimes two or three per day. She can longer work because of the seizures and as a result is no longer able to afford her rent. Currently, she's living with a friend, but will have to move again in a month. She's waiting for her application for disability to be heard, but doesn't expect to start receiving assistance until December.
To help make ends meet, Polly visits the Food Bank. When she first became a client, rather than a "shopper" for others, she remembers how Jan, Food Share Manager, took the time to help Polly get through the line and pick out her items.
"When I first started coming to the Food Bank I was really struggling and Jan and Lynette were so compassionate and helpful." Polly especially appreciates the fresh fruits and vegetables she's able to get at the Food Bank. "I eat veggie based meals, healthy foods – no junk food ever – to help manage my Parkinson's symptoms," said Polly. "The Food Bank is one of the greatest places ever. They are always there."
Despite all of her personal struggles, Polly continues to give back. She's a passionate volunteer with the Homeless Coalition. On Thursdays, she visits the Food Link program to pick out food for meals. On Fridays, she helps cook and serve at the Mennonite Church. Last month, Polly used her personal SNAP benefits to purchase milk to share with "her people" at a Friday night meal. "Milk is like gold, especially for the children. I feel compelled to help others because so many have helped me. If it weren't for the Mission and the Food Bank, I don't know where I'd be."
https://foodbanklarimer.org/wp-content/uploads/2018/06/new-fblc-logo2.png
0
0
foodbank
https://foodbanklarimer.org/wp-content/uploads/2018/06/new-fblc-logo2.png
foodbank
2015-09-10 20:04:31
2015-09-10 20:04:31
Polly's Story