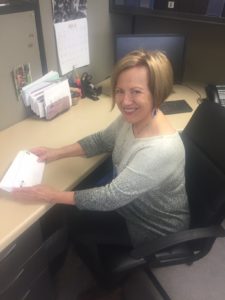 Cheryl Schmidt has been a volunteer at the Food Bank for almost four years, putting in just over 400 hours so far. She began serving at the Food Bank for Larimer County when she moved to Fort Collins in 2013 and joined the Fort Collins Newcomers Club. This group volunteers collectively at the Food Bank once a month and Cheryl took this service opportunity to heart. Quickly thereafter, she started to contribute time outside the group by working in the Kid's Cafe and later managing the Newcomers group. Recently, she began working two mornings a week in the Food Bank main office, as well.
When she's volunteering at the Food Bank she does anything from stuffing envelopes, as pictured here, or baking muffins and packing snacks for kids. She mentioned she loves it all and is just happy to help.
Cheryl lived in the mountains prior to calling the Front Range home. She volunteered at the local food bank which offered mostly canned goods that guests could only pick up four times a year. Being a foodie herself, Cheryl notes, "I have soft spot for people who are hungry. So working at the Food Bank is a good fit for me, particularly the Kid's Cafe because I love what they do and offer as far as feeding kids; it's really just so impressive."
She credits the mission of the Food Bank as her drive for continuing to volunteer. She loves, "Being able to contribute to a cause that I feel strongly about. Knowing all these kids are going to get to eat, have a snack; they're not going to go home hungry." That's her reward for her hard work and she knows that part makes a big difference in the lives of children, seniors, and families living in hunger in our community.
Cheryl encourages everyone to take advantage of the free Food Bank tours, allowing them to, "See the operations in person to get an overview of what the Food Bank does. It's huge! I just wish more people knew what the Food Bank does for our community."
She concluded by saying, "I just love it, so glad I'm here to help!" The Food Bank is so thankful for the support of Cheryl and the thousands of other volunteers that lend a hand annually to help us achieve our mission of a hunger-free Larimer County.
https://foodbanklarimer.org/wp-content/uploads/2018/06/new-fblc-logo2.png
0
0
Kate Shelton
https://foodbanklarimer.org/wp-content/uploads/2018/06/new-fblc-logo2.png
Kate Shelton
2017-04-01 14:21:24
2017-04-11 13:54:45
Volunteer Spotlight: Cheryl Schmidt