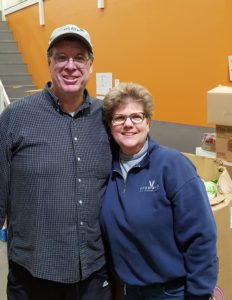 April is National Volunteer Month. This and every month, the Food Bank for Larimer County relies on the generous support and time volunteers provide. In 2016 alone, volunteers donated 37,900 hours to the Food Bank, an equivalent of 18 full-time staff members.
Joe Helm, pictured here with Food Share Manager, Jan Martin, began volunteering at the Food Bank in September 2015 and has already contributed 750 hours of service. He holds regular shifts in Food Link, Food Share, and the warehouse.
Prior to living in Fort Collins, Joe worked at the St. Mary's Food Bank in Phoenix. When he moved to Colorado, he found the Food Bank for Larimer County and as he says, "the rest is history." Joe believes, "The best part of volunteering for me is the interaction I have with the employees of the Food Bank, the other volunteers, the agencies, and people who take advantage of what the food bank has to offer."
Joe contributes two shifts a week in the Food Share area, generally stocking bread.  He also works two shifts a week in the Food Link area sorting the deliveries and on Friday mornings, he offers his time in the warehouse helping to accomplish any tasks necessary.
"I believe we all have a responsibility to offer our talents and time to help others; now that I am pretty much retired, I have the time," Joe said in explaining why he is so willing to help out at the Food Bank.  He went on to say,  "I am able to see the 350 to 450 people who come through the Food Share program every day and how it helps them."
The Food Bank for Larimer County simply could not have as great an impact without the help and willingness of volunteers to support our mission. Interested in learning more about volunteering at the Food Bank for Larimer County? Click here!
https://foodbanklarimer.org/wp-content/uploads/2018/06/new-fblc-logo2.png
0
0
Kate Shelton
https://foodbanklarimer.org/wp-content/uploads/2018/06/new-fblc-logo2.png
Kate Shelton
2017-04-01 08:24:13
2017-03-29 20:42:09
Volunteer Spotlight: Joe Helm