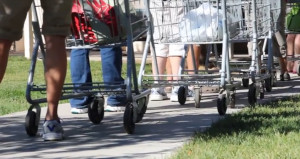 "I never thought it would be this hard."

                       — Food Bank Client, Senior, Living on Fixed Income
As we head into 2015, here's a snapshot of last year's work.
In 2014, the Food Bank for Larimer County…
served 29,034 individuals through Food Share (up 2.7%)
provided 8,918,016 pounds of food (enough for 7,431,680 meals)
distributed 3,406,648 pounds of fresh produce (up 16.6%)
Of additional significance and concern is the fact that the number of seniors we served through our Food Share pantry increased for the fifth year in a row. Our older clients tell us how difficult it is to find affordable housing, pay for medicine and other necessities on a fixed income. In the words of one client, "I never thought it would be this hard."
And despite reports of economic growth, the need for food assistance in our community is still great. We see it every day in the lines outside our door. We hear it in the stories our clients tell of their struggles to find good paying jobs that cover expenses like rent, childcare and utilities. And, sadly, we learn about the struggles of the retired teacher who lost everything she worked for after a catastrophic illness.
With all of these stories in mind, we will continue to look for ways to better serve our clients in the coming year. As always, we are grateful for our supporters who allow us to work towards our vision of a hunger-free Larimer County.
https://foodbanklarimer.org/wp-content/uploads/2018/06/new-fblc-logo2.png
0
0
foodbank
https://foodbanklarimer.org/wp-content/uploads/2018/06/new-fblc-logo2.png
foodbank
2015-01-15 18:53:32
2015-01-30 10:42:52
Year in Review