May is Older Americans Month in the Feeding America community, which means it is a time to reflect and understand the needs of Older Americans in the United States that have food insecurity. In Colorado this issue is just as important as it is in the rest of the country and one that the Food Bank of Larimer County holds near and dear to its operations.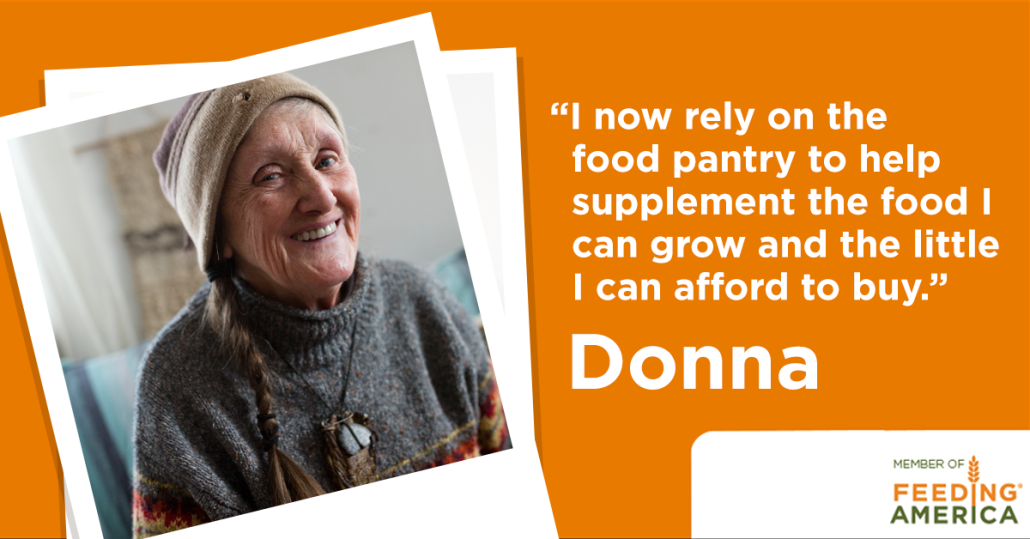 The need in the United States is great. In fact, seniors living with food insecurity doubled to 5.4million between 2001 and 2013. This means that 9.5% of the elderly live below the poverty line. To cope, many are trading other needs for food, or making choices around food that aren't the healthiest; 63% of seniors often trade-off with food or medical care, 60% trade-off with utilities and food, and 58% trade-off with transportation.
For those seniors with food insecurity, individuals are 60% more likely to experience depression, 53% more likely to report a heart attack, 52% more likely to develop asthma, and 40% are more likely to report an experience of congestive heart failure. As part of Feeding America, Food Bank for Larimer County is part of a network of nationwide organizations that serves 7 million seniors over the age of 60 and 1/3 of all client households have at least one senior age 60 or older. Around 77% of these households have a member with high blood-pressure, 47% have a member with diabetes, and the median household income is only $10,955. Without adequate nutrition these health concerns can increase or even create new health concerns.
Charitable food assistance alone cannot solve senior hunger. The federal nutrition programs that reach seniors, including SNAP, the Commodity Supplemental Food Program (CSFP), and senior congregate and home-delivered meals are critical supports for low-income seniors facing hunger.
By increasing awareness around the need nationwide there is the potential to connect seniors with the resources that they need. Supplemental Nutrition Assistance Program (SNAP) benefits provide $110/month for food cost and the Commodity Supplement Food Program (CSFP) provides shelf-stable food for 619,000 low-income persons each month across the nation. With these two programs along with food bank programs we can provide aid with healthy food options, information resources and aid to those in need.
Locally, the Food Bank for Larimer served over 3,100 individuals through our Food Share program alone; a number that has grown year over year for five years. Each month, we deliver CSFP commodity boxes and fresh fruits to homebound seniors in low income housing developments. This spring we are piloting a program to provide healthy and free meals for seniors in in partnership with the Volunteers of America at the Northside Aztlan Community Center. By providing this link to vital resources we are giving individuals more opportunities to get the food, nutrients and connections they need to live well.
Together, we can give back to those who have given us so much of their time, hard work and wisdom. Join us in raising awareness for older Americans who struggle with hunger, so we can work toward solving senior hunger. Donate today, and sign up for our newsletter!