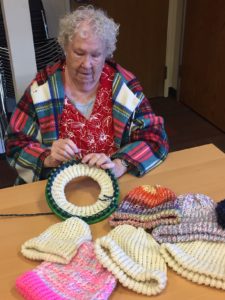 Eighty year old Bobbie is a retired nurse. She spent 30 years of her career in long-term senior care. Four years ago, after the death of her mother, who was an avid knitter, Bobbie inherited "drawers and bags" of yarn. She wasn't sure what to do with it all and that's when her friend Vicki suggested she start making hats to honor her mother's memory. Bobbie loved the idea and together that year they knitted 200 hats and donated them to Coats for Colorado.
Around that same time, Bobbie started using the Food Bank. Due to a series of circumstances, Bobbie had lost her home and moved to a small apartment.  She was finding it harder and harder to make ends meet on her Social Security income. Vicki suggested she use the Food Bank.
"I remember the first time I visited, everyone was so friendly and welcoming," said Bobbie. "I felt at home the minute I walked in."
That's when Bobbie decided to start donating hats to the Food Bank. Together with her friend Vicki, they knitted hats and dropped them off during their weekly visits. They made hats in a variety of colors and sizes. She was especially happy when she had blue and orange yarn to be able to make Broncos hats!  In 2015, Vicki died suddenly after a short illness. Bobbie says that she now makes her hats in honor of both her mother and her dear friend. She estimates that she's donated over 1,000 hats over the last few years. Although she ran out of her mother's yarn years ago, word has spread and Bobbie receives donated yarn from a variety of sources. She also stops by resale shops to find deals. Bobbie has never considered selling her hats.
"My life isn't easy, but I have a roof over my head, food and family," said Bobbie. "I know there are people at the Food Bank who have it worse than me. Knowing that my hats keep people warm makes me happy."
https://foodbanklarimer.org/wp-content/uploads/2018/06/new-fblc-logo2.png
0
0
Kate Shelton
https://foodbanklarimer.org/wp-content/uploads/2018/06/new-fblc-logo2.png
Kate Shelton
2017-01-27 10:56:28
2017-03-14 21:54:48
Food Bank Client Knits Hats as a Way to Give Back